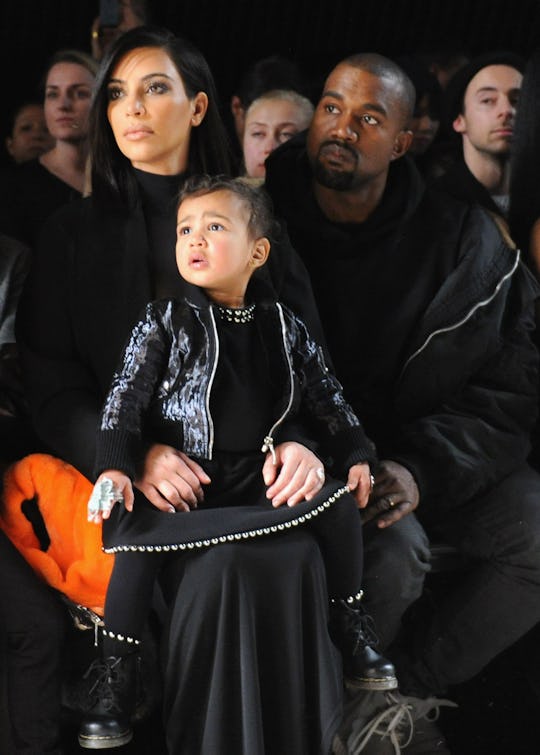 Craig Barritt/Getty Images
Advice North West Can Give Kim & Kanye's Newborn Son About Being A Kardashian-West
Well, it's finally happened: Kim Kardashian and Kanye West have a new baby, adding another adorable kiddo to their already-adorable squad. And while the Internet is anxiously awaiting more deets about the little newcomer (including his name), we can only guess how North feels about the latest addition to the fam. Being birthed into the Kardashian-West family is no joke; but there's lots of sage advice North can give her new bro, to make the transition easier, and I sure hope he takes it — because his life is about to get super interesting.
Whether or not your the firstborn of Yeezus and Kim K., it's always tough on the older sibling when a new baby arrives. Research suggests that you do your best to ensure the older kid doesn't feel left out (which it will, inevitably at certain points). And to try to lessen the sibling rivalry, it's best to let the older kid take charge of somethings. Although North isn't quite old enough yet to change diapers or do any chores (not like she probably ever will anyway, lucky girl) she can still be the in-house expert on what it's like to be initiated into the Kardashian-West (and Jenner) clan. Big sisters are a wealth of information — but Kardashian and West's son will need some special attention.
After all, all squads have their unspoken rules and rituals, and the KW's are no different. Here are some rock-solid tips North should probably consider passing on to her younger brother.
Get Ready For #SquadGoals
The Kardashians roll deep. The new baby should be ready to for the Balmain Army and all of the other friends of the Kardashian-Jenner fam. Most importantly, will their newborn be allowed to hang out with North and Penelope? They are the cutest (and most fashionable) squad in town, but they could use another act in their crew. He better be ready to roll.
Prepare Your Instagram Selfie Face...
As a Kardashian-West, you always have to be on, little brother. And when it comes to your selfie game, you've gotta be really on. Plus, considering your mom is the Selfie Queen of All Time, you have a lot to live up to.
…And Your Christmas Photo Face
…And Your Butt-Naked Family Photo Face
Remember, Being Silly Is Genetic (So You Better Be On Board)
As Is Looking Fab At All Times
Also, Public Meltdowns Are Totally Cool When You're Part Of This Crew — Even If They Happen Next To Anna Wintour Herself
So Is Traveling In Style, However You Define That To Be
But Above All Else, Family Always Comes First, For Better Or Worse
Welcome to the world, little man. The Internet can't wait to watch you grow up in the biggest/craziest/most entertaining family ever.
Image: Craig Barritt/Getty Images; Giphy (7)