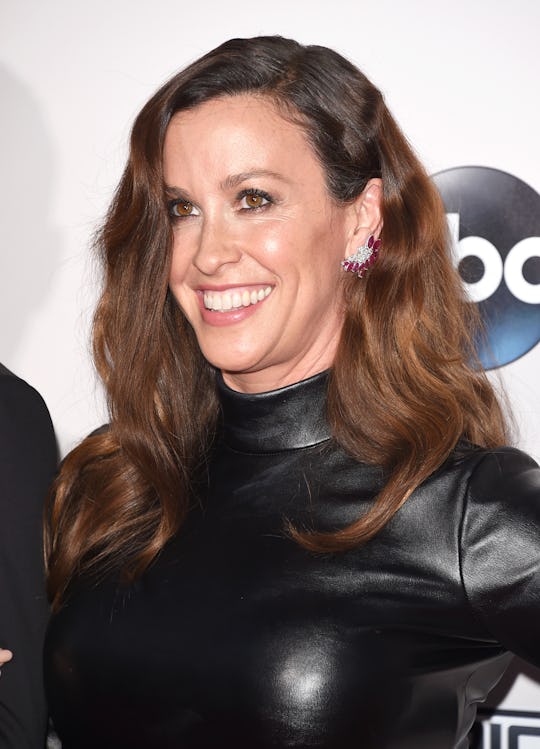 Jason Merritt/Getty Images Entertainment/Getty Images
Alanis Morisette Struggles With Crippling Postpartum Depression & She's Not Alone
Becoming a mom is one of the most powerful and beautiful things that a woman can go through. So many things about a woman's body changes, and there are emotional, mental, and a mess of physical changes going on as well. Luckily, we live in a time when important issues for women and moms everywhere are finally being talked about, and don't have as much stigma surrounding them as they used to. And, now, more and more celebrity moms are coming forward to talk openly and honestly about their pregnancy issues. Most recently, Alanis Morissette said that her postpartum depression is debilitating and honestly, so many moms can relate.
Speaking exclusively to People, Morissette opened up about dealing with postpartum depression after the birth of her children and how she's continuing to deal with it while also raising two kids. "As a kid, I imagined having children and being with an amazing partner," the 43-year-old told People, continuing, "this is a whole other wrench I didn't anticipate."
And truly, so many moms out there assume that giving birth will be the end of all of pregnancy's emotions and pressures. But for the one in seven women that struggle with postpartum depression, the fight to feel normal again wages on long after giving birth, according to The American Pregnancy Association.
Morissette said began feeling symptoms of postpartum depression after giving birth to her son, 6-year-old son Ever Imre, and described "intense physical pain, insomnia, lethargy and "horrifyingly scary" visions of her family being harmed," according to People. However, she wasn't formally diagnosed with postpartum depression for 16 more months, which couldn't have been nice to feel that way and not know why. She went on to describe how the illness had left her feeling defeated. She told People:
It's very isolating. I'm used to being the Rock of Gibraltar, providing, protecting and maneuvering. It had me question everything. I've known myself to be a really incredible decision-maker and a leader that people can rely on. [Now] I can barely decide what to eat for dinner.
But Morissette recognizes that many women don't feel comfortable sharing their postpartum depression experiences, or might not even know what it is. "The stigma remains in a really big way," she told People. "There's this version of eye contact that I have with women who have been through postpartum depression where it's this silent, 'Oh my God, I love you. I'm so sorry.' "
But at the end of the day, Morissette knows that she will get through this, she just has to give herself some time. "I just know that there's a light at the end of the tunnel and try not to beat myself up," she told the magazine.
And truly, if you or someone you know is struggling with postpartum depression or anxiety, you are not alone.
Check out Romper's new video series, Romper's Doula Diaries: