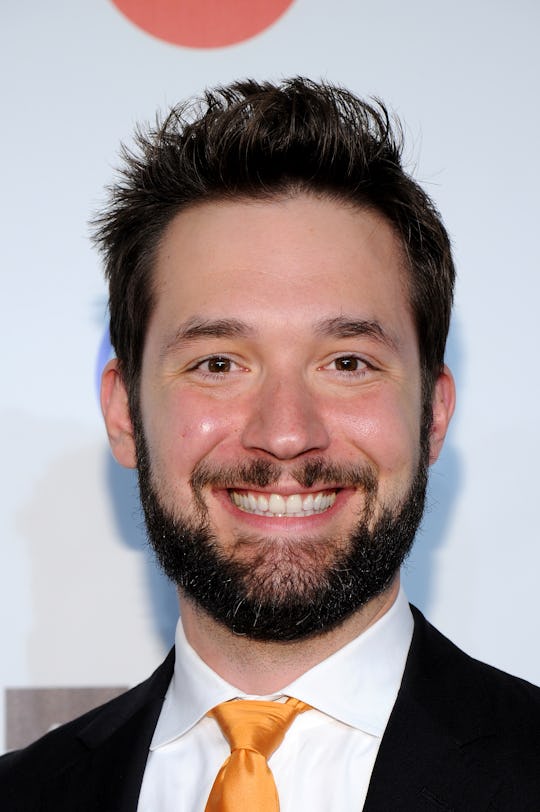 Bryan Bedder/Getty Images Entertainment/Getty Images
Alexis Ohanian's Instagrams Of Serena Williams Are Perfect
Ever since tennis great Serena Williams let the world know she's expecting a baby last Wednesday, the internet has been abuzz with Williams' news. We all want to be part of the conversation, to know all about Williams and her fiancé, Reddit co-founder Alexis Ohanian. To get a good sense of how much they truly love each other (hint: It's a lot), check out Ohanian's Instagrams of Williams. There aren't many, as the couple have tried to remain private, but they are a sweet, clear picture of a man who is very much in love with his partner. And it's everything.
After Williams announced her pregnancy via a quick Snapchat pose — which featured her bump in a yellow bathing suit and the caption "20 weeks" — the couple seem to be so excited about their baby that they are actually sharing a little more with their adoring fans. Which has been lovely, considering their relative radio silence since Williams announced their engagement in December with a sweet little poem about Ohanian's romantic proposal on Reddit. Who could blame her; it was the marriage proposal to end all proposals, apparently:
I came home. A little late. Someone had a bag packed for me. And a carriage waited. Destination: Rome. To escort me to my very own 'charming.' Back to where our stars first collided. And now it was full circle. At the same table we first met by chance. But by choice. Down on knee. He said 4 words. And I said yes.
Obviously, the man is in love. Need more proof?
He Takes Pictures Of Her With Pets... In Matching Outfits
Ohanian captioned this photo:
I think they enjoyed their gifts. Like mother like daughter...
He Loves Her Cheesy Jokes
In this video, Ohanian asks Williams (who is cuddled into his shoulder smiling shyly), what this bell is called. She says, "Taco bell." And he loves it to pieces.
They're Obviously Relaxed When They're Together
I mean, she's still Serena Williams and obviously a goddess. But take a moment to look at that smile on her face, folks. She's relaxed. And content. That smile is where it's at. And as for Ohanian? That's the face of a man that's thinking, "Yeah, my life is pretty perfect right now."
He's Proud Of Her
Whether she's looking fabulous on the beach...
... or making history on the tennis court:
He Supports Her & Her Family
Serena Williams is, as he captioned this photo, Ohanian's "everything." When Williams beat her sister, Venus, to claim her 23rd Grand Slam title in the Australian Open, Ohanian congratulated both women for being the ultimate badasses they are:
I'll never forget this night. These two extraordinary women are legends. I'm so proud of you.
He's Excited To Become A Parent With Her
Ohanian used the Reddit mascot, Snoo, to create this adorable little image of the two of them as Snoos. He captioned the photo:
A new Snoo is on the way! My number one, @serenawilliams, is pregnant (she announced officially earlier today) and I'm so excited to meet the little one. You keep amazing me.
The couple are now enjoying a little babymoon in Mexico. They were photographed laughing and talking while lounging on the beach together.
Which is how they seem to prefer it these days... just being together.