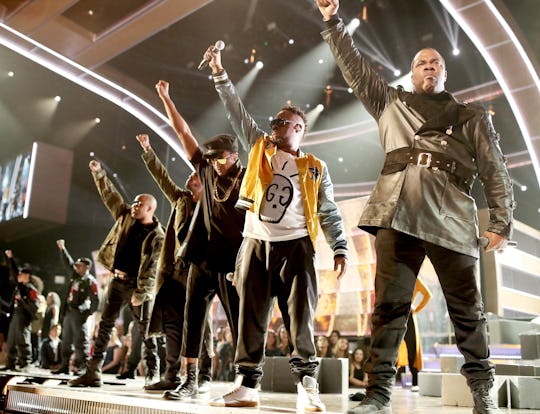 Christopher Polk/Getty Images Entertainment/Getty Images
All The Anti-Trump Moments In ATCQ's Grammys Show
In an overwhelmingly mild-mannered event, one group of artists managed to make a bold and brash political statement in their energetic performance, resulting in an impressive statement. All of the anti-Trump moments in A Tribe Called Quest's Grammys performance addressed the issues head on — issues that other musicians merely alluded to in their various songs and speeches throughout the night.
Joined by best new artist nominee Anderson .Paak and Busta Rhymes, A Tribe Called Quest called out President Donald Trump in both subtle and direct ways while performing their hit "Award Tour" and parts of "Can I Kick It." "I wanna thank President Agent Orange," Busta Rhymes began, "for perpetuating all of the evil that you've been perpetuating throughout the United States." Facetiously thanking "President Agent Orange" again for his "unsuccessful attempt at the Muslim ban," group members simultaneously broke through a wall behind him — a message about Trump's proposed wall between the United States and Mexico. "We the people," Busta rapped — the title of a song off of A Tribe Called Quest's most recent albumWe got it from Here... Thank You 4 Your service. Q-Tip shut the room down at the end, chanting "resist" repeatedly.
Watch part of the action below:
A Tribe Called Quest encouraged everyone, nationwide, to keep on "pushing against people in power to represent them," dedicating their performance to protestors. They also, of course, dedicated it to Phife Dawg, a former member of the group who died last year.
Standing against Trump's oppressive policies, these artists used their music as a way to connect not only with their immediate surroundings but also to all of the viewers at home who might feel discouraged, angry, or scared by the current political climate in the United States. A Tribe Called Quest, Anderson .Paak, and Busta Rhymes all stood in solidarity against oppression and hate.
Seeing as he hasn't yet tweeted about it, it's unclear whether or not Trump has tuned in to the Grammys at all. From Katy Perry's "Persist" armband and constitutional visuals at the end of her performance to Beyoncé's acceptance speech that asked that everywhere, even the White House, have equal representation for children, Trump earned plenty of call-outs. Still, A Tribe Called Quest's was the most blunt, echoing:
All the black folks, you must go / All the Mexicans, you must go / All the poor folks, you must go / Muslims and gays, we hate your ways / See all you bad folks you must go.
The performance had a number of powerful and necessary messages, and using such a visible stage to send it was important and bold.