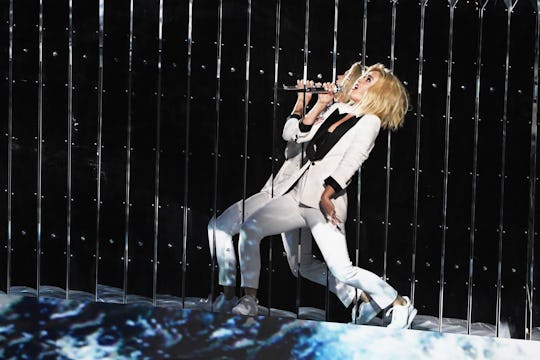 Kevin Winter/Getty Images Entertainment/Getty Images
Katy Perry's Anti-Trump Grammys Performance
During Sunday night's Grammy Awards, there were several notable performances, with Katy Perry's reemergence on the stage after a well-deserved self-care break. The headline-worthy performance was notable for Perry in a whole new way for her. Perry had just released her latest single, "Chained to the Rhythm," on Friday, and the live rendition of the new song at the Grammys definitely took a subtle stance against President Donald Trump and his policies. Because the song was so fast-paced, though, you might have missed some things, so, here are all the anti-Trump moments in Katy Perry's Grammys performance.
Perry herself hasn't been quiet or shy about her political stances this election season, performing at the Democratic National Convention last summer, even. Her involvement and participation in the Women's March on Washington certainly cemented her in the status in the "badass feminist" club, and her activity on Twitter and Instagram also speak volumes about social justice and equality.
While the title of Perry's new single may seem simple enough, the lyrics are also understatedly political:
Are we tone deaf? Keep sweeping it under the mat. Thought we could do better than that. I hope we can. So comfortable, we're living in a bubble, bubble.
So really, it should come as no surprise that Perry took the opportunity of her Grammys performance to make a highly visual statement about America's current political climate. While many of the most political moments of her performance were very subtle, they were still there, and they still mattered. Here's what you may have missed:
Wore A Hillary Clinton Inspired White Pantsuit
One of the most prominent aspects of Perry's performance was definitely her outfit. During Clinton's campaign trail, her pantsuits were (unfortunately) one of the most highly controversial points of critique. After the devastating results of election, the private Facebook group, "Pantsuit Nation" paid tribute to her efforts anyway with millions of users using the platform to post their own "pantsuit tributes." Perry's outfit certainly pays tribute to Clinton's presidential run, with the color white representing the women's suffrage movement in the 1920s.
She Alluded To A Wall
Throughout her performance, Perry danced in and around a white picket fence. While not a wall, it doesn't seem to be coincidence that Perry used a dividing device as one of the most notable facets of her performance. Trump's most notorious campaign promise (and now executive order) was to build "a big, beautiful wall" dividing the United States and Mexico, in an attempt to stop illegal immigration. Perry's use of a wall-like feature, especially one that she goes in and out of, points to her disapproval of the order, and voices her opinion (without actually voicing it) that all should be welcome in America.
She Wore A "Persist" Armband
While not as visible as her pantsuit or white fence, Perry's pink and sparkly band around her arm, which she wore for the duration of her performance, read "persist." Although many in the anti-Trump movement have taken to the term "resist" as a battle cry, the recent incident with Elizabeth Warren being silenced in Congress has lead to a new mantra. While Warren was reading a letter from Coretta Scott King to help make her statement against the nomination of (now) Attorney General Jeff Sessions, Senate majority leader, Mitch McConnell silenced her, citing an outdated rule, and stating, "She was warned. She was given an explanation. Nevertheless, she persisted." Since then, "nevertheless, she persisted," has become a feminist rallying cry. And Perry's armband seems to be paying tribute to those exact words.
She Ended With A Large Image Of The Constitution
At the end of Perry's performance, she was joined with rapper Skip Marley, and when the song had finished, the two stood, hands joined, with an image of the United States Constitution on the screens surrounding them. Many of Trump's policies have been criticized as being unconstitutional, and who could forget the moment at the DNC when Khizr Khan took the stage to speak of his brave son's service to the country, asking Trump, "have you even read the United States Constitution?" Since then, it seems, anti-Trumpers have upheld the Constitution in defiance of Trump, and his policies.
Perry's performance was filled with powerful moments, and her quiet stance against the current administration was important on such a national stage.