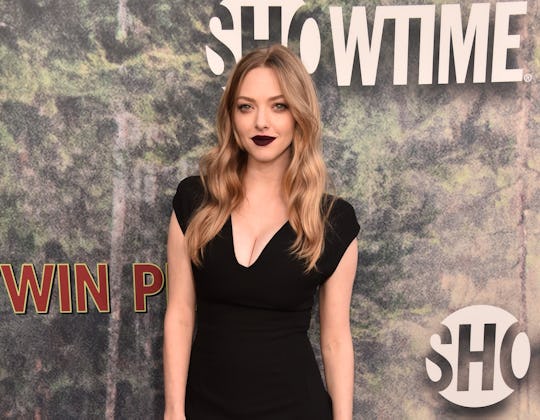 Alberto E. Rodriguez/Getty Images Entertainment/Getty Images
Amanda Seyfried On Protecting Her Mental Health While Pregnant
The issue of whether or not expectant mothers should take antidepressants while pregnant can be a thorny one, for sure. But for actress Amanda Seyfried, the decision was clear. And in a new podcast, Seyfried revealed she took antidepressants while pregnant, for a very important reason.
The Mean Girls actress recently went on Dr. Berlin's Informed Pregnancy Podcast to chat about giving birth to her daughter with husband Thomas Sadoski back in March. Seyfried talked about her struggle with obsessive compulsive disorder, with which she was diagnosed at age 19, although she'd been dealing with it all her life. She also discussed how, when she was doing an off-Broadway play with Sadoski in 2015, she began having frequent panic attacks onstage. She began taking an antidepressant called Lexapro to help her manage her anxiety, and when she found out she was pregnant, she ultimately made the decision to stay on her "extremely low dose" of the drug after realizing, as she said during the podcast, that "a healthy parent is a healthy kid."
Since doctors are reluctant to test drugs on pregnant parents, there's not a ton of information available about the possible effects of antidepressants on fetuses, but the small amount of research that does exist generally only shows a low effect. Some women on the drugs stop taking them while pregnant, to be extra safe. But as Seyfried pointed out, for other pregnant people, stopping an antidepressant regimen may actually not be the safest option.
If an expectant mother isn't taking care of herself, she isn't taking care of her baby. And when a woman has difficulty functioning when she's off her medication, she may not be able to do all the things she needs to do to ensure that her baby gets the proper prenatal care, especially at a time when her hormones are going haywire.
On top of that, extreme and long-term stress while pregnant can increase the chances of having a premature or low-birthweight baby, which can lead to all sorts of health issues for the child. It seems clear that Seyfried made a healthy decision for her particular circumstances.
The decision whether or not to remain on antidepressants is a personal one, and one a woman should make after consultation with her doctor. But since people don't often talk about it, many moms and moms-to-be can feel a sense of shame about their decisions. Given the stigma around mental health, it's refreshing to see Seyfried speaking so openly about her own experience. Hopefully her message reached other women who needed to hear it.