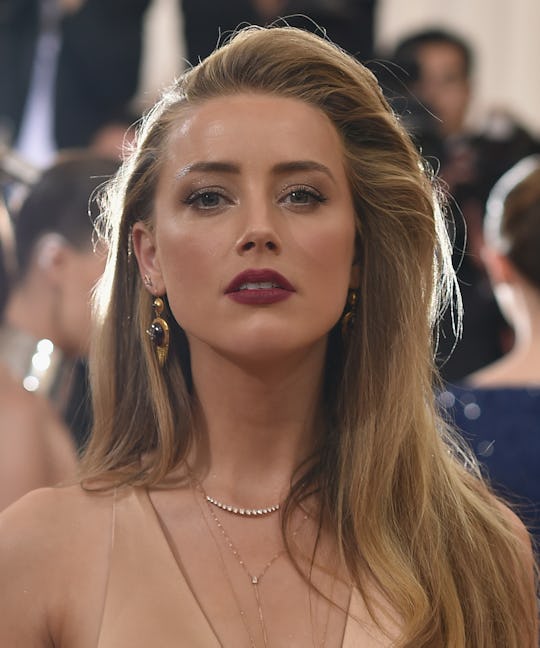 Dimitrios Kambouris/Getty Images Entertainment/Getty Images
Amber Heard Will Donate Divorce Settlement To Charity & Sends A Powerful Statement
When actress Amber Heard filed for divorce from and acquired a restraining order against then-husband Johnny Depp in May, she alleged that she had been the victim of Depp's violent outbursts over the course of their 15 month long marriage. Doubts about the veracity of her claims have cast a pall over the couple's ensuing divorce settlement negotiations, with some celebrity-watchers speculating that she was out for money, not justice or personal safety. But after both sides agreed that Depp would pay his ex $7 million in spousal support Tuesday, Amber Heard donated her entire divorce settlement to charity, sending a powerful message about her motivations and her convictions.
Heard and Depp, perhaps best known for his role as Captain Jack Sparrow in the Pirates of the Caribbean films and his wide ranging career in cinema, also released a joint statement in conjunction with the announcement of their settlement confirming that "Neither party has made false accusations for financial gain," USA Today reported. Having clarified that she's not the gold digger some believe her to be, Heard also announced Thursday that she had split the full sum of her spousal support evenly between two charities: the Children's Hospital of Los Angeles and the American Civil Liberties Union. At the ACLU, the money will be used "with a particular focus to stop violence against women," according to a statement the Danish Girl actress disseminated to media outlets.
Heard's full statement emphasized that she did not accuse Depp of domestic abuse (with evidence like a photo of herself with a black eye and bruising on her face) for any reason other than it was true. It's important to note, though, that Heard formally withdrew her allegations when news of the settlement went public. The statement reads, in part:
As described in the restraining order and divorce settlement, money played no role for me personally and never has, except to the extent that I could donate it to charity and, in doing so, hopefully help those less able to defend themselves.
As reported in the media, the amount received in the divorce was $7 million and $7 million is being donated. This is over and above any funds that I have given away in the past and will continue to give away in the future.
Depp, for his part, has consistently denied any wrongdoing. After Heard filed for divorce in May, a Depp representative issued a statement to Us Weekly. "Given the brevity of this marriage and the most recent and tragic loss of his mother, Johnny will not respond to any of the salacious false stories, gossip, misinformation and lies about his personal life," it read in part.
In all likelihood, Depp has benefitted from his wealth and social status in the outcome of this case, which probably won't affect his future career prospects very much. He benefitted from a cultural climate that's more likely to question a person who claims to be a victim of intimate partner violence than to demand accountability and change from the accused. And when there is fame and huge sums of money at stake, the propensity to doubt the alleged victim oftentimes escalates, with the public assuming the accuser must have ulterior motive.
That's why Heard's decision not to keep a cent of the $7 million that's rightfully hers makes such an important statement. By donating it to charity — especially to one that will use it specifically to help battered women — she is saying to her detractors that the ordeal she says she lived through was real, and it was traumatic, and that's why she divorced Depp. She's showing this with actions rather than more words. Out of respect for all survivors of abuse, let's listen.