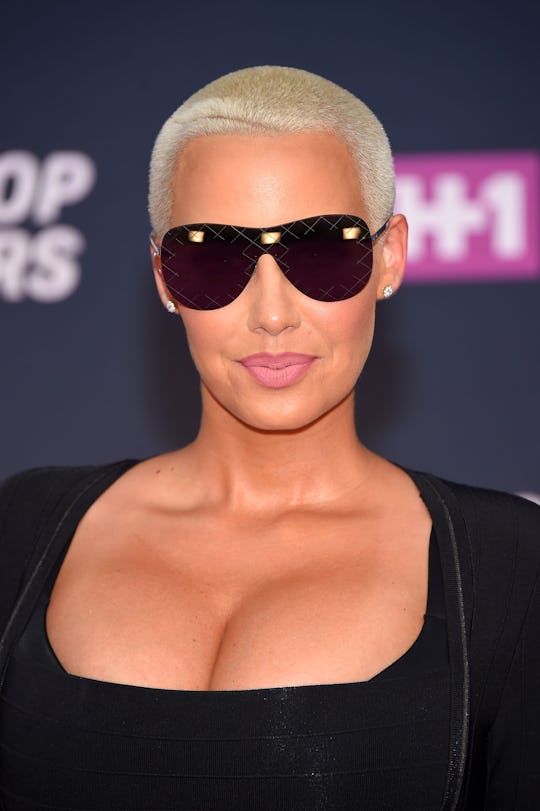 Michael Loccisano/Getty Images Entertainment/Getty Images
Amber Rose Says Homophobic Comments About Her Son Are Ridiculous
Don't mess with Amber Rose. The outspoken feminist mom comprehensively shut down some internet trolls that left homophobic comments on a picture she posted to her Instagram account recently. Rose's adorable son Sebastian was playing around with a wig and she shared the sweet moment with her followers. Some Instagram users took issue with the photo, leaving hateful comments suggesting that trying on the wig would make her three year old son gay. Rose hit back against the homophobic comments, making it clear that they were completely out of line and shutting down the criticism.
TheShadeRoom was able to capture what went down in the comments of Rose's Instagram. User strugglife101 commented, "Wouldn't be surprised if he eventually comes out as gay," while user delitoofinedoe added "smh! he already talks a lil 'sweet'! All bad." Rose swiftly stepped in and shut down the hateful rhetoric happening on her page:
Wow you people are so smart, huh? Putting on a wig is gonna make a baby gay? Straight guys, do yourself a favor ... Put on a wig and see if you're turned on by another man ... I'll wait. And ladies, seriously grow the f*** up and educate yourselves. Throw one of your wigs on your BF or ur dad. Yay! He's gay! Oh wait ... no, sorry, you're all just f****** idiots. Sexual orientation has nothing to do with how people dress.‌
It's no surprise that Rose had absolutely no time for the haters. She's known best perhaps for unapologetically speaking her mind. Some only know her in relation to her feud with the Kardashian sisters, but there is so much more to this model turned activist than tabloid stories. Rose often intelligently and compassionately speaks out on important social issues, especially those pertaining to women.
In February she schooled "It's Not You, It's Men" hosts Tyrese Gibson and Rev. Run on the matter of consent. Gibson didn't seem to fully grasp the concept that no simply means no, and Rose immediately shut him down. "If I'm laying down with a man — butt-naked — and his condom is on, and I say, 'You know what? No. I don't want to do this. I changed my mind,' that means no," she explained to the male hosts and their audience, continuing "That means f-ing no. That's it.It doesn't matter how far I take it or what I have on. When I say no, it means no."
It's great to see celebrities like Rose use their platform to speak out on important issues. Sticking up for her little boy — who, by the way, can grow up and identify however he wants or dress however he wants — is only natural.
I can't wait to see what Amber Rose schools the world on next.