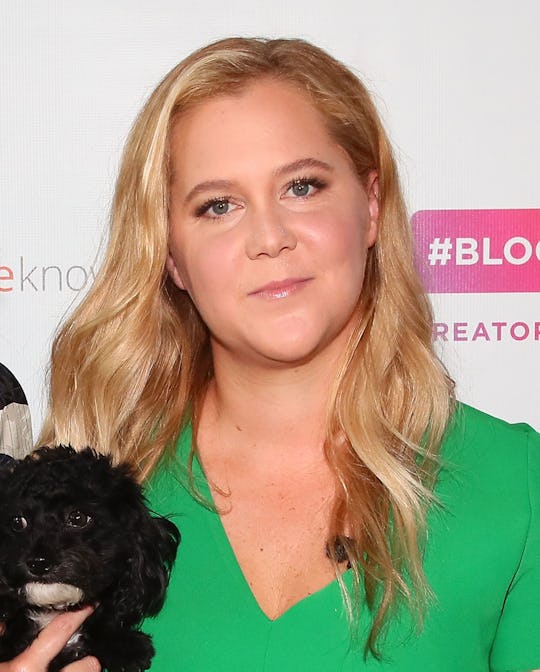 Astrid Stawiarz/Getty Images Entertainment/Getty Images
Amy Schumer Wants To See Your Baby Pics To Help Cope With Her "Tough" Pregnancy
If you've had to endure morning sickness while pregnant, then you already know how miserable it is. But for women who are diagnosed with hyperemesis gravidarum, a pregnancy complication that causes extreme nausea and vomiting, then morning sickness can actually end up looking like a walk in the park. Comedian Amy Schumer recently revealed that she was suffering from the condition while pregnant with her first child, and it's meant she's had to postpone shows and endure hospital admissions. But now, in an effort to lift her spirits, Amy Schumer wants to see baby photos from friends and fans as motivation to get through her "tough" pregnancy, according to People, and, if nothing else, it's a testament to how grueling HG really is.
In an Instagram post on Thursday, Schumer posted an adorable photo of her dog — dressed in what appears to be plaid dog pajamas — and wrote that, thanks to HG, she'd been have a really difficult few days. And while there may not be a whole lot she can actually do about it, Schumer did say that seeing photos and videos of her friends' kids was making her feel a bit better. She then made an appeal to her entire Instagram following, and requested that her fans post photos of their kids and along with the hashtag, #amyschumer. Those without human children could still participate though: she added that she was "accepting dog photos" too.
It didn't take long for her followers to rise to the occasion: in a follow-up post, she shared some of the seriously adorable pics of babies, kids, and animals she received. And it seems that Schumer has totally tapped into some incredible pregnancy self-care.
Not only is it impossible to not feel all warm and fuzzy inside seeing these pics, it also serves as a really great reminder that — as terrible as she may feel and as unfair as it may be when social media makes pregnancy look like the easiest, most glamorous thing in the entire world — it will likely all seem worth it once she gets to hold her baby in her arms at the end.
Schumer revealed in October that she and husband Chris Fischer — whom she married in February — were expecting their first child together, according to The Independent. But it wasn't long, unfortunately, before she revealed that she was having a much harder time than she anticipated. On Nov. 5, she shared a video clip from a recent ultrasound, and said, "It's moving all around! See it has so much energy. That's why I'm puking everyday." And not long after, she shared a post explaining that she was unable to make it to the People's Choice Awards, where she'd been nominated, because she was so sick.
Only a few days later though, Schumer revealed just how bad her pregnancy nausea and vomiting had actually become, when she announced she had to cancel her scheduled shows in Texas after she was admitted to hospital with HG. And later, she announced that she would also have to postpone shows in Seattle, Phoenix, Oakland, Los Angeles, Philadelphia, and Baltimore because she was "sick as hell."
As much as the slew of cute photos must have helped her feel at least a little bit better, there was likely one in particular that definitely would have done the trick. In an Instagram Story, Schumer posted a photo of her mom holding her when she was an infant, and wrote, "my mom sent this of us."
As awful as it to have HG while pregnant, there are unfortunately many moms out there who can relate to what Schumer is going through (Catherine, the Duchess of Cambridge, famously had the condition with all three of her children). Hopefully Schumer will be able to find some relief soon, but for now, it seems she's at least figured out one way to try and hang in there. And it's likely a great reminder of everything she had to look forward to when she finally gives birth.
This first-time mom wants to have a home birth, but is she ready? Watch how a doula supports a military mom who's determined to have a home birth in Episode One of Romper's Doula Diaries, Season Two, below. Visit Bustle Digital Group's YouTube page for the next three episodes, launching every Monday starting November 26.