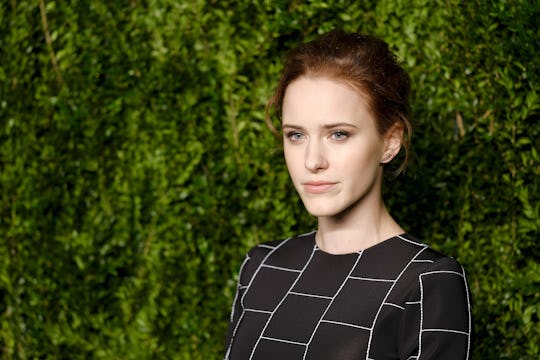 Dimitrios Kambouris/Getty Images Entertainment/Getty Images
Amazon Thinks 'The Marvelous Mrs. Maisel' Is, Well, Marvelous!
Amazon Prime has been trying out new shows in an interesting way: they'll drop the first episode and see how much response it gets before ordering the show to series or not. That was what they did with The Marvelous Mrs. Maisel, the new show from Gilmore Girls creator Amy Sherman-Palladino. The show follows Rachel Brosnahan as Midge Maisel, a housewife with a seemingly perfect life, as she discovers a talent for standup comedy and embarks on her new career. Now Sherman-Palladino's The Marvelous Mrs. Maisel has received a two-season pickup on Amazon, which is the first time Amazon has renewed a show so far in advance.
According to a statement from the Head of Comedy, Drama & VR at Amazon Studios, Joe Lewis, it seems like the two season order was an easy decision. "In her onstage debut, Mrs. Maisel killed and had audiences responding overwhelmingly with digital applause," Lewis said. "Like any great young stand-up, we're excited to see what she had to say next and for a long time to come. That made it an easy decision to order two seasons from Amy and her incredible cast. We can't wait to bring it to customers soon."
After the intense fan excitement over the return of Gilmore Girls, it seems like audiences were looking forward to anything new from Sherman-Palladino, and Mrs. Maisel hit the spot.
And for fans missing Gilmore Girls in the wake of its revival (particularly because its fate is pretty uncertain right now), Mrs. Maisel might be able to fill the void. With a sharply witty brunette at the center of a show filled with references and lightning-quick dialogue, it's definitely a Sherman-Palladino project. It has all the beloved qualities of her past work but manages to be something different at the same time. After such a promising pilot, Midge's journey towards figuring out her new life will be a fascinating one to watch.
Though the premiere date for the new episodes is to be determined, the pilot episode of The Marvelous Mrs. Maisel is still available for streaming (and has been since March 16), provided you have an Amazon Prime account. If you've already given the show a shot but can't wait for the next episode, then you can relive the laughs of the first to your heart's content; if you still haven't given it a watch, then you've got time to catch up.