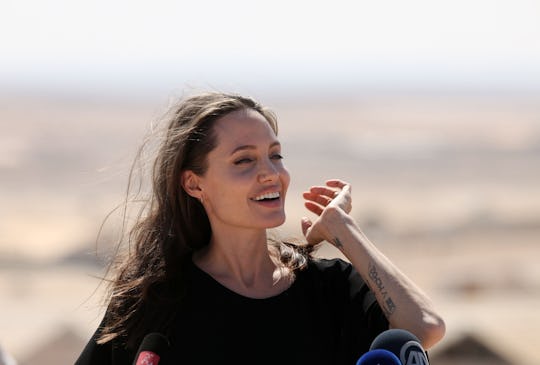 Jordan Pix/Getty Images News/Getty Images
Angelina Jolie Finally Opens Up About Her Divorce
Hollywood's most famous couple filed for divorce in September, and the entire event has been fodder for public speculation ever since — but on Sunday, Angelina Jolie spoke out about her divorce from Brad Pitt for the first time in public. Speaking to the BBC, Jolie said the divorce was a "very difficult time," but expressed hope for the future. "I don't want to say very much about that, except to say it was a very difficult time," Jolie said, visibly tearing up when asked about her split and the events that led up to her divorce.
Still, she added, she was hopeful. "We are a family," she said. "And we will always be a family, and we will get through this time and hopefully be a stronger family for it."
Asked how she was coping with the changes, Jolie said:
Many, many people find themselves in this situation, and... my family, we've all been through a difficult time. My focus is my children — our children — and my focus is finding this way through. And, as I said, we are and forever will be a family. And so that is how I'm coping, I'm coping with finding a way through to make sure that this somehow makes us stronger and closer.
Jolie was in Cambodia for the premiere of her documentary, First They Killed My Father, her first official appearance since she parted ways with Pitt in September. The two had been dating since 2004 and married since 2014, and shared six children. As two of Hollywood's biggest stars, their divorce was highly publicized, and the media covered the intricacies of their child custody battles as Pitt faced allegations of child abuse, according to Us Weekly. (Those allegations were later dismissed and closed by authorities after an investigation.)
Pitt released a statement to People about the divorce in September, telling the magazine:
I am very saddened by this, but what matters most now is the well-being of our kids. I kindly ask the press to give them the space they deserve during this challenging time.
Pitt's first official appearance after his divorce was in January, when he presented an award at the Golden Globes. He was heavily applauded by the audience, which seemed like a strong show of support from the industry, but he made no mention of his personal life.
Besides Pitt's statement and Jolie's brief words to the BBC, it seems the two are set on keeping their private life private. A divorce after over a decade together is never an easy thing to handle, but it seems like both parents have their children's best interest in mind. Here's to hoping it does make their family stronger and closer in the end, as Jolie has expressed.