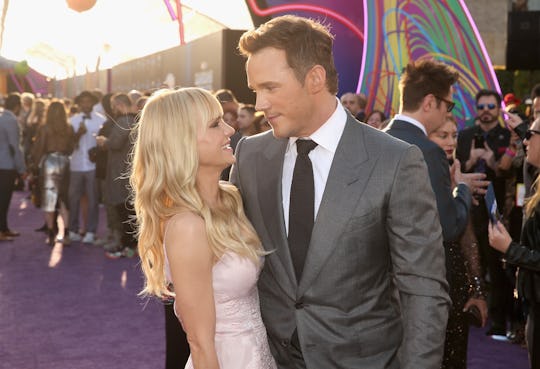 Jesse Grant/Getty Images Entertainment/Getty Images
Why Anna Faris Thinks Chris Pratt Didn't Have To Be Her Best Friend
Whether you have a ton of good friends or just one best friend that you're super close to, having some kind of person to spend time with is so, so important. This could not be more true for people in relationships, who deserve to have some time away from their partner and confide in someone else. Although it's so fun to say that you "married your best friend," having female friendships is also a pretty important priority. Amidst her separation from her husband, Anna Faris has said that Chris Pratt wasn't her best friend — and the logic behind is something that everyone needs to hear.
In October's issue of Cosmopolitan, Faris released an essay from her new book, Unqualified (out late October), that stresses the importance of having friendships and leaving your husband out of it altogether. Faris wrote, according to People:
I was once told that I didn't need a tight group of girlfriends because Chris should be my best friend. But I never bought that. The idea of your mate being your best friend — it's overhyped.
It should be noted that Faris and Pratt announced that they were separating after eight years of marriage in early August and subsequently broke the hearts of fans. "We tried really hard for a long time, and we're really disappointed," Pratt and Faris wrote in a joint statement on Facebook, according to People. Neither Pratt or Faris has filed for divorce one month since their announcement, according to TMZ, and the both of them are currently attending couple's therapy reportedly for co-parenting guidance, according to People.
But their divorce shouldn't take away (or shadow) Faris' super poignant message about having girlfriends and empowering one another by being there for each other. Faris continued, writing:
I really believe that your partner serves one purpose and each friend serves another. There's the friend you confess things to and the friend with whom you do the listening. Or this is the person I talk to when I'm feeling lonely or sad, this is the person I talk to about work sh*t, and this is the friend I'm still in touch with because we grew up together.
In the essay, Faris also reveals that she was reluctant to have girlfriends, but is now so happy to have a group of strong women in her life. "It takes vulnerability of spirit to open yourself up to other women in a way that isn't competitive, and that's especially hard in Hollywood, where competition is built into almost every interaction," Faris wrote, according to Cosmopolitan.
While Faris' words are sound advice, there is also some scientific reasoning behind it. Having friendships has been scientifically proven to improve your physical and mental health, according to The New York Times. One, conducted this past June according to TIME, found that having friendships in old age was a stronger indicator of well-being than family connections.
Essentially, having female friendships is just as important for you. When you support other women and their successes, you too, can reap the benefits from it, according to Mic.
But for those women who disagree with Faris and are proud that they married their best friend (and don't get sick of saying it), they might have a point. According to Today, a 2015 study did find that the "well-being effects of marriage are about twice as large for those whose spouse is also their best friend." So, there could be a plus to marrying someone that you share everything with.
Faris' logic is something that everyone can pay attention to. Friendships are so important and keeping your relationship out of it isn't necessarily a bad thing.
Check out Romper's new video series, Romper's Doula Diaries: