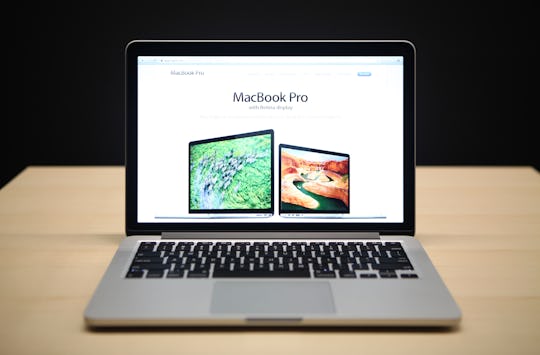 AFP/AFP/Getty Images
Apple's New Macbook Pro: All The Features & Updates You Need To Know About Before You Buy
In the tech world, 18 months is an eternity, and that's how long it's taken for Apple to unveil a major redesign of its signature product, the MacBook Pro, The Guardian reported. On Thursday, the company redeemed itself when it reintroduced the classic laptop with some significant improvements at an event at its Cupertino, California, headquarters. Some of these will certainly enthrall and impress the casual Mac user, while others will be especially awe-inspiring to hardcore computer nerds fascinated with the subtle nuances of what makes this version of the personal machine even more powerful. With all its new features and updates, Apple's MacBook Pro has something to offer all types of users.
The new MacBook Pro, which comes in three different models, is lighter, sleeker, and more powerful than its tried and true predecessors. According to Business Insider, the 15-inch version weighs just 4 pounds, and Apple reported that it will boast a screen that's 67 percent brighter with 25 percent more colors. The two models with the splashiest new feature, the Touch Bar (read on for more info, but here's a sneak preview: emojis on your keyboard!) will have a whopping 10 hours of battery life.
All models are available for order Thursday. The 13-inch model without the Touch Bar costs $1,499 or more, while 13- and 15-inch models with the Touch Bar start at $1,799 and $2,399, respectively.
To decide whether to buy, learn the details of Apple's latest innovation below:
Touch Bar
Phil Schiller, senior vice president of worldwide marketing for Apple, described the Touch Bar this way Thursday, according to The Guardian:
It's a retina display, multitouch, responding to gestures and taps. We call it Touch Bar. First it replaces the standard system functions, but it goes way beyond that. It adapts to whatever software you're using.
The Touch Bar is definitely the biggest change to the Mac, and it's a tool that users will undoubtedly integrate fully into their experience — as it totally replaces the function keys, according to Gizmodo. It's a touch screen that adapts to whatever app is in use, so users in Mail can use it to send an email to the trash, and then see it change to allow them to navigate Final Cut Pro.
Touch ID Sensor
The Touch ID sensor is technically part of the Touch Bar, and it's a similarly nifty addition that sounds like it has the potential to make users wonder how they ever got along without it. By reading the fingerprint of the computer's owner, the Touch ID feature will unlock the device as well as enable purchases with Apple Pay. Pretty cool.
Much Larger Trackpad
According to The Verge, the trackpad on both sizes of the new MacBook will be significantly larger than the ones on the older models. Specifically, that means a 46 percent increase in size on the 13-inch model and that the 15-inch model will be twice as big. This means more room for playing with the "force touch" feature Apple first rolled out on its Macs in 2015, CNET reported. Remember, that's what lets you see a preview of a document, for example, if you click and hold.
No More USB-A Ports
What that means, my friends, is more adapters could be on the horizon for those who decide to upgrade their Macs. According to The Guardian, Apple is cutting the USB type A ports that are still the "global standard." It will have, however, a total of four USB-C Thunderbolt 3 ports, which can be used for power and connectivity. There won't be a SD card reader, HDMI port, the two Thunderbolt ports that doubled as a mini DisplayPorts, or the two USB-A ports that owners of the older MacBooks have, so it many not be compatible with existing accessories.
Good news, though: There WILL be a headphone socket, a feature the iPhone 7 is conspicuously lacking.
It's a lot to mull over, and Apple is giving customers the time to do that. You can order all three models now, but the ones with the Touch Bar won't ship for another two to three weeks. Apple, meanwhile, it surely already starting work on an innovation that will soon make even those shiny new computers obsolete.