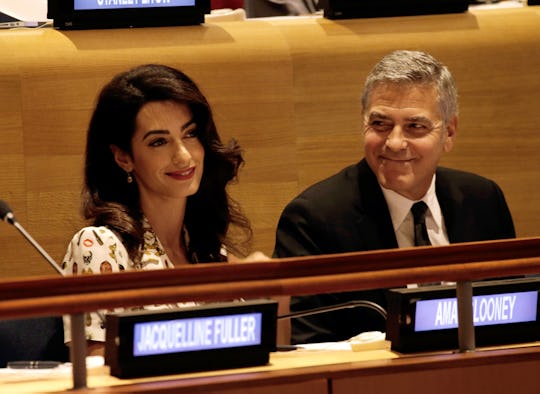 Pool/Getty Images News/Getty Images
Are Amal & George Clooney's Twins Girls Or Boys?
It looks like Queen Bey isn't the only one expecting twins. It was recently revealed that George Clooney and his wife Amal are expecting twins. So are Amal and George Clooney's twins girls or boys? Romper has reached out to both George and Amal's rep for comment, but has yet to hear back. However, close friends of the couple have supposedly told reporters that Amal and George are expecting a boy and a girl, giving them one of each!
On Thursday, Feb. 9, host Julie Chen revealed on The Talk that she'd confirmed with George in late January that he and his wife were expecting twins, due in June. The couple tied the knot in Venice, Italy back in September 2014 and have been pretty private about their personal lives since then. The two-time Oscar winner is best known for his work in the Ocean's Eleven trilogy, Gravity, Up in the Air, The Descendants, ER. Meanwhile, Amal stays out of the spotlight, but has done incredible work as a prominent human rights lawyer.
Though the two are rarely spotted out together, the couple most recently appeared for a private screening of the Netflix documentary The White Helmets in January. Now that Amal is pregnant, though, the couple will probably be even more secluded than ever, trying to give Amal her privacy, as well as the twins, once they are eventually born, which believe it or not will be here in no time at all. George Clooney as a father... my heart is already aching over the adorable photos that are sure to come.
The twins are the first kids for both George and Amal, and they'll surely be great parents. Although they don't talk about each other often during interviews, it's clear they have nothing but love for each other, and that love will only grow with their kids, who will surely be the cutest little ones ever. Their parents are seriously blessing them with great genes.
Whether it's a pair of girls, a pair of boys, or a mix of both (which is the rumored speculation), these babies will be absolutely stunning and the talk of the town. Although it'll probably be a while before people outside of the family even get a glimpse of these kids, I'm excited for Amal and George. Congratulations!