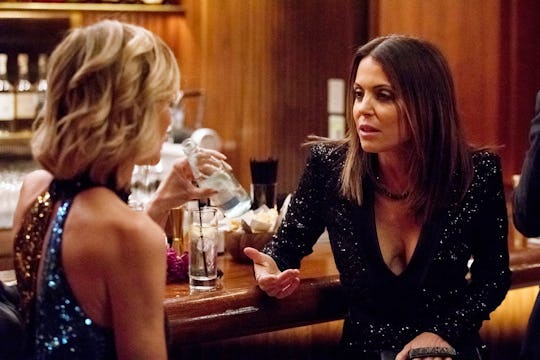 Heidi Gutman/Bravo
Bethenny & Jill's Friendship Could Be On The Road To Recovery On 'RHONY'
Bethenny Frankel and Jill Zarin were Real Housewives of New York City besties until Season 3, when things started to go downhill fast. Viewers witnessed their huge falling out throughout the course of the season and by the time it ended, their friendship was kaput. During Season 10, their friendship showed the first signs of life in years, but are Bethenny and Jill Zarin really friends again? The RHONY stars may be reaching a reconciliation.
Although their falling out was chronicled during Season 3 of RHONY, Bethenny revealed to Andy Cohen in 2015 what the real beginning of the end was. During TV interviews with the rest of the cast to celebrate the show's 100th episode, Bethenny talked to Cohen about what started to change. "I remember there was a turning point and I was hosting the Today show," Bethenny said at the time. "When I got there, the first thing that was told to me by the producers was Jill called [the producer] and she lost her mind." Bethenny explained that, according to the producers, Jill had said something to the effect of, 'Why not me? I'm better than her.'" Bethenny also said that there had been other occasions when she made live appearances and Jill would ask why she hadn't been asked to come along as well.
Since then, the women barely spoke to each other on or off the show, but the recent passing of Jill's husband, Bobby Zarin, may have inadvertently brought them back together again.
To show respect for Bobby and for Jill, Bethenny attended Bobby's funeral, where she learned that before Bobby's passing, he'd urged Jill to try and make amends with Bethenny. And despite having spent years not talking to her once best friend, Bethenny stayed to support her for a lot longer than she'd planned. "To be honest, I thought I was going to pay my respects and leave, and I ended up lingering and staying and having emotions," Bethenny admitted to People. "I really did know Bobby. And I did sort of remember all of these quotes that he had said."
Bethenny also told People that she was glad to have gone to the funeral out of respect for Bobby and Jill. "It's just one less thing for [Jill] to be upset about," she said. "I do feel for her having such a tremendous loss."
At the Real Housewives of New York City Season 10 reunion, some of the other women implied that Bethenny reaching out to Jill about the death of her husband was "opportunistic" and disingenuous. But Bethenny was firm that she and Jill are on better terms than formerly, and that her concern following Bobby's death was totally sincere.
Jill also spoke with People about where her friendship with Bethenny stands now. She, too, wasn't quick to put a label on their friendship just yet, if that's what it is now. But she did say that they've texted each other since the funeral and that she knows she can call on Bethenny if she needs anything and vice versa. "I feel like that line of communication is open and running both ways, so that's good," Jill said. And it's definitely a step up from not talking at all over the past few years after their big RHONY falling out.
More recently, Bethenny's on-again, off-again boyfriend Dennis Shields was found dead in his apartment. And although she's remained out of the spotlight regarding the tragedy, Jill was among the RHONY stars to come forward in support. Jill said in an official statement that she was "devastated" for her former friend. Overall, it seems like there's a lot of hope that the two women will make amends for good. It may have taken two terrible losses in order for the women to welcome the other back into their lives, but it's possible. I feel that there's enough history between them that it's only a matter of time before they're actual friends once again.