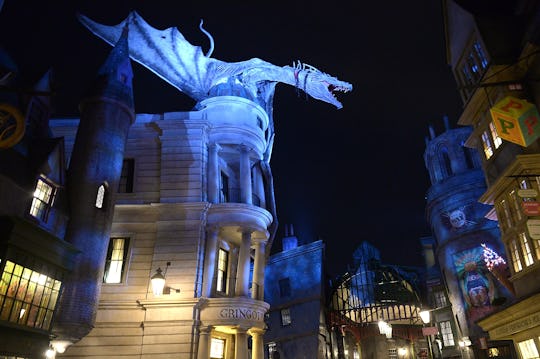 Gustavo Caballero/Getty Images Entertainment/Getty Images
Are There Alligators At Universal Studios? The Disney Resort Attack Has Tourists Worried
On Tuesday night, a two-year-old boy from Nebraska was attacked by an alligator at Disney World's Grand Floridian Resort & Spa. The child was playing on the beach at the edge of the Seven Seas Lagoon, a man-made body of water, when the animal dragged him into the water, according to ABC News. The boy has yet to be recovered, but unfortunately, Orange County Sheriff Jerry Demings said on Wednesday afternoon that there's "no question" that he's dead. It's come as a shock to those outside of Florida who had no idea the deadly creatures lurked at the amusement park, and now vacationers are worried that there may be alligators at Universal Studios, as well.
Though alligators are quite common in Florida (it's estimated that about 1.25 million live in the state), attacks are not. The Florida Fish and Wildlife Conservation Commission has records on alligator attacks going back to 1948, and in most years, there were never more than a dozen attacks, and they were often minor. In fact, 2015 broke a seven-year streak of zero fatal attacks. None have occurred at Orlando's other major theme park, Universal Studios. In fact, no alligators have ever been seen there at all.
Alligators tend to stay away from humans, and FWC executive director Nick Wiley told USA Today that "People – even small people – are not their typical prey." Wiley believes that the alligator might have mistaken the child for a dog or a raccoon.
But what was an apex predator doing at a family resort in the first place? Stories of Disney visitors encountering alligators are all too common, and there's plenty of video to prove it (Romper has reached out to Disney World regarding their animal control policies; we'll update if we hear back). The problem may lie in the fact that Seven Seas Lagoon and the adjacent Bay Lake are connected to various other bodies of water, providing an avenue for alligators to invade. And don't forget that before it was home to roller coasters and cartoon princesses, Orlando was a swamp. The gators were there first.
So why aren't there any alligators at Universal? Perhaps it's because all of their bodies of water are independent of other lakes or rivers, and surrounded by busy roads, parking lots, and buildings. There are lakes nearby, but the giant reptiles would be unlikely to cross through heavily trafficked areas to access the park. The Magic Kingdom, on the other hand, is surrounded by undeveloped land. I'm certainly not advocating for Disney to destroy the natural habitats of indigenous animals, but there's no question that it's a more reptile-friendly area than its competitor, where the only giant lizards are an animatronic tyrannosaurus and a fire-breathing dragon.