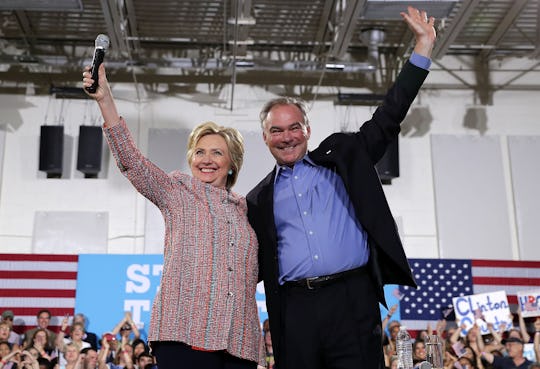 Alex Wong/Getty Images News/Getty Images
Are Tim Kaine & Hillary Clinton Friends? They've Worked In Politics Together For Years
On Friday night, presumptive Democratic nominee for president Hillary Clinton announced Virginia Sen. Tim Kaine as her vice president and running mate in the 2016 election. Are Tim Kaine and Hillary Clinton friends? Clinton and Kaine have worked in the same political sphere for years; Kaine was reportedly almost chosen by President Barack Obama as his vice president and running mate for the 2008 election, according to Mic.
Clinton announced Kaine as her pick in a text to supporters Friday night after delaying the announcement throughout the day. In a tweet with the announcement, Clinton said she was thrilled to make Kaine, "a man who's devoted his life to fighting for others," as her running mate. Then she tweeted five things to know about Tim Kaine.
Kaine is a more centrist pick than the other people Clinton was considering. Clinton was said to have had meetings with Massachusetts Sen. Elizabeth Warren, a sort of surrogate and far leftist similar to Vermont Sen. Bernie Sanders. She was also in talks with New Jersey Sen. Cory Booker, who also would've appealed to supporters who didn't want Clinton to choose a white, pro-establishment man. In the end, though, USA Today reported that Clinton went with Kaine, who is considered the "safe" pick, because polls show that Sanders supporters are already starting to move toward Clinton because of their fear of Trump.
The New York Times reported that Clinton and Kaine have an easy relationship and a "love of granular policy-making." Kaine has been called boring and even admitted to being boring in interviews (while laughing at himself), according to USA Today, but Clinton said that characteristic is something she likes about him:
I love that about him. He's never lost an election.
Because Kaine is so centrist an because he's so "boringly" likable and pragmatic, the Times reported that he could help Clinton win over Independents and Republicans who can't fathom voting for Trump or a Republican Party that no longer represents their values. Kaine is a Roman Catholic who speaks fluent Spanish and spent time in Honduras doing missionary work, according to the Times. Though he is religious, he approaches issues like abortion with a "separation of church and state" first mindset. He's a supporter of equal pay legislation, and he worked on programs in Virginia that helped children access pre-school programs, according to On The Issues.
Though Kaine might be seen as "boring" to some, it's clear that Clinton has a respect for him and his years of governmental experience — a kind of respect that it's unclear Trump has for his running mate, Indiana Gov. Mike Pence.