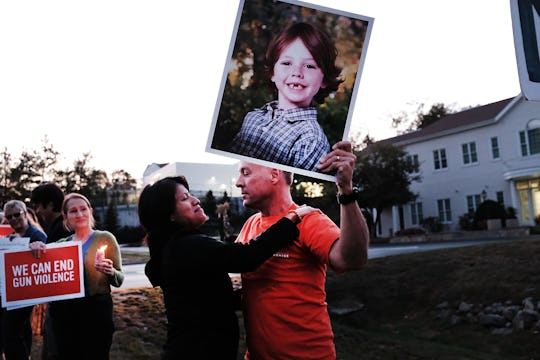 Spencer Platt/Getty Images News/Getty Images
Arming Teachers Is "Patently Ridiculous," & Yet Here We Are
My two half-Australian children, who are 1 and 3, attend a daycare in Brooklyn, New York — a state with comparatively strict gun laws in a country with lax gun laws and tens of thousands of gun fatalities annually — and every day I, like every other parent in America, hope they'll be alive when I go to pick them up. On weekends trips out to Grandma's house, they like to ride the carousel at the Danbury Mall, a two-story, glass-domed fête a short 11 miles from Newtown, Connecticut, where 20 first-graders and six adults were shot dead in 2012 in their classroom. Mark Barden lost his 6-year-old son Daniel in that school shooting, and now campaigns for common-sense gun violence prevention as a co-founder and managing director of Sandy Hook Promise. Today, he is explaining why a reported proposal by the U.S. Department of Education to federally fund the arming of teachers, per the New York Times, is a bad idea.
Teachers like his wife Jackie Barden are charged with meeting exacting mandated curriculums at the same time as they must address student's individual needs and prepare students for various challenges, Barden tells Romper by phone. "It's all the teachers can do just to manage those things, and to add to that the preposterous notion of the awesome responsibility of taking a student's life in a shootout in the school is patently ridiculous. And everyone knows that."
This is where the U.S. is, five and a half years on from the Newtown school shooting.
[To] take that money away and use it to buy guns for teachers is just a horrible proposition.
Faced with incontrovertible opposition to any kind of legislation perceived as threatening pro-gun interpretations of the Second Amendment, Sandy Hook Promise has worked to educate over 3.5 million students and adults in 50 states through its Know The Signs programs, and to advocate for passage of common sense legislative actions, such as state-level Extreme Risk Protection Orders (ERPOs) that allow officials to remove arms from at-risk individuals. In February, Barden, along with other gun violence prevention advocates attended a "listening session" at the White House, where he discussed the success of those initiatives.
Sandy Hook Promise worked with Congress to pass legislation funding gun violence prevention strategies, known as the STOP School Violence Act, through the House of Representatives subsequently. Notably, the bill prevented federal funds from being used to arm teachers. Barden says that the reported DOE proposal to allow schools to allocate federal funds to firearms goes entirely against the strategies advocated by Sandy Hook Promise that have bipartisan support.
"To take money away from after-school enrichment programs and mental health programs and socialization programs for students, particularly in underserved communities, and take that money away and use it to buy guns for teachers is just a horrible proposition," Barden says.
Romper reached out to DeVos for comment and had not received a response at the time of publication.
"We knew Betsy DeVos would try to do the bidding of the National Rifle Association and the gun manufacturers, but to even consider diverting resources used to support poor kids to flood schools with more guns is beyond the recklessness we believed she was willing to pursue," said American Federation of Teachers President Randi Weingarten in a statement on the AFT website.
The public support is not there for putting guns in the hands of teachers.
Public support for gun prevention measures like background checks polls as high as 90 percent, per Politifact; 74 percent of NRA members support background checks prior to gun purchases. Gun violence prevention is truly a bipartisan cause, putting DeVos' reported proposal in a space of its own as uniquely inscrutable, inexplicable. In the post-Sandy Hook Elementary moment to February of this year, there had been 239 additional school shootings, according to a tally by the New York Times. One-hundred-and-thirty-eight more deaths after Sandy Hook.
I hate that I am on the phone to Barden. I hate that we are still trying to figure out how to sandbag our schools from apathy, an overabundance of assault weapons, legislative indifference. "The public support is not there for putting guns in the hands of teachers," Barden tells me with not a small note of tension. I feel my heart shattering as I do the research and take in picture after picture of little Daniel Barden.
Often when we visit Danbury, the mall is empty — signs of ailing retail — so we head to the carousel. My 3-year-old daughter leaps up in her glittery light-up shoes and runs to the stationary chariot. She prefers it to the horses, which are still quite tall for a toddler. So the music starts and the carousel starts to spin, and we watch the horses gallop on their poles, each a different color, empty of children. Their cousins love the carousel, too, which they ride in a country that passed rigid gun control legislation in the wake of a mass shooting in Port Arthur, Tasmania, and has seen gun violence diminish markedly.
The work Barden and the other parents are doing at Sandy Hook Promise is capable of saving lives. I think about the kids who might be riding that carousel, if gun violence hadn't taken their lives. I think about the futile, damaging work that the U.S. government is doing.
Barden feels the same. "We have a solution that we know works. We already are collecting data, we already have anecdotal evidence from the field that it works, and it's only going to get better," he tells me. "So let us do our work — that's the answer."