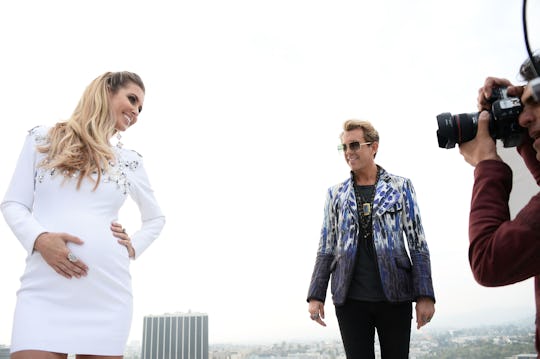 Matt Winkelmeyer/Getty Images Entertainment/Getty Images
Audrina Patridge Says Breastfeeding Is Harder Than Getting A C-Section
Becoming a new mom is a journey rife with struggles. From sleepless nights and painful recoveries to raging hormones and more, sometimes it's all you can do to keep yourself and your baby alive. So when celebrity moms — who so often have the appearance of being "perfect" and seem to effortlessly get back into size 2 jeans in a matter of days — publicly admit their struggles with the whole parenting thing, it's enough to make you want to pat yourself on the back. The latest celeb mom to serve up a dose of realness is former reality TV star Audrina Patridge, who confessed to People in a recent interview that she found breastfeeding more painful than the birth itself!
Patridge, who delivered her daughter, Kirra Max, via caesarean section in June, said she learned to push through the physical pain of feeding her newborn baby:
The first two to three weeks were excruciating. But I got through it! I slept on the couch for a week. My grandma came and helped for a week. It was crazy!
This isn't the first time Patridge made headlines for her breastfeeding ways. Last month, the new mom and fiancé to Corey Bohan posted a breastfeeding image to Instagram that showed her feeding Kirra in the midst of shopping for a wedding dress:
Similar breastfeeding photos are sometimes met with hate and derision, but Patridge's image received a warm welcome from her fans on Instagram, with fan katttck commenting, "As a new breastfeeding mama who has received a lot of hate for nursing in public, it's great to see someone with an audience like yours normalising it."
Though the idea of breastfeeding in public has certainly gotten its share of attention over the last few months, it's less common to hear from famous moms about the potential pain of breastfeeding. And believe it or not, Patridge's ordeal is fairly common: Though breastfeeding is different for everyone, the La Leche League says up to 90 percent of breastfeeding women have some nipple soreness, and nearly 30 percent experience cracking and extreme nipple pain. Causes of breastfeeding pain include:
Improper positioning at the breast;
Suction trauma;
Clogged milk ducts; and
Breast engorgement (caused by an excess of milk in the breast).
Luckily, sore nipples can often be treated with warm, moist compresses; bathing a cracked nipple with fresh breastmilk can hasten healing and offer antibacterial protection. For more serious instances of breastfeeding pain, ask your doctor or find a lactation consultant.
Chances are you'll experience no shortage of parenting and breastfeeding advice in your first few weeks of motherhood. In that case, take a cue from Patridge:
Once I had Kirra, nothing else mattered. I didn't even care. I didn't care about the dishes piling up or anything. I just let it go.
You do you, mamas.