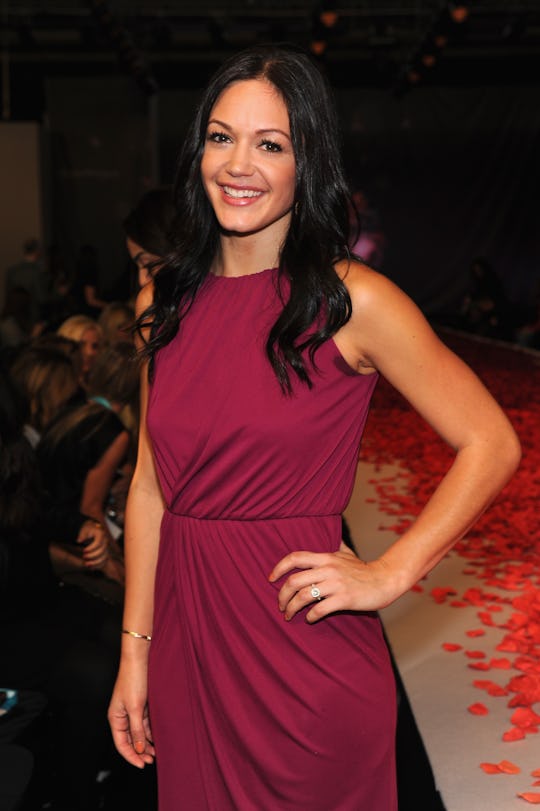 Dimitrios Kambouris/Getty Images Entertainment/Getty Images
'Bachelorette' Desiree & Chris Hartstock Welcome Son & The Baby's First Photo Is Adorable
This story does my little old heart good; couples who meet on The Bacholerette can make it work, guys! While some couples from The Bachelor/Bachelorette franchise never seem to make it far beyond the fantasy suite, Chris and Desiree Hartstock Siegfried are managing to defy the odds with their story of Happily Ever After. And now a third member has joined their little love nest; Bachelorette Desiree and Chris Hartstock welcomed their son and shared the sweetest pic of him on Instagram.
Asher Wrigley Siegfried was born in Seattle, Washington on Wednesday, weighing a healthy eight pounds. Desiree shared her happy news in a statement to Us Weekly, gushing over her new little man:
Words can't even express the amount of love we feel for our baby boy Asher. He has already brought so much joy into our lives in one day. He's strong, healthy, happy, playful and warm. Chris and I are beyond blessed with this beautiful gift of life that we are excited to have as a part our family.
Desiree took to Instagram to share an adorable pic her wee man clutching her finger with the caption:
He already has us wrapped around his precious little fingers! We are overjoyed to welcome the newest addition to our family, Asher Wrigley Siegfried. Born yesterday, happy, healthy and strong!
Chris and Desiree Hartstock Siegfried, who met and fell in love on Season Nine of The Bachelorette, were married in February of 2015. The former Bachelorette first appeared on The Bachelor, falling in love (and subsequently getting her heart broken) by Bachelor Sean Lowe. All's well that ends well, though, and the perky brunette bridal dress designer from Colorado went on to have a storybook wedding with banker Chris Siegfried, who proposed to her during the final episode of Season Nine on The Bachelorette.
The blissfully happy couple announced their pregnancy in May of 2016, a little over a year after they were married.
In August,they shared the gender of their baby with Us Weekly. Siegfried told the magazine that they had originally intended to keep the baby's gender private, but:
Well, we were planning on just doing a dinner and keeping it very private and only between us, but we walked out of the ultrasound and we had the card in our hand and thought, 'Or we could do this right now.' We just couldn't wait, once we found out. … We didn't care if it was a boy or a girl. But it was so nice to know.
In a pretty cynical world, where it's easy enough to get jaded (particularly about reality star romances), it's nice to see a couple turn into a happy little family.
Congratulations!