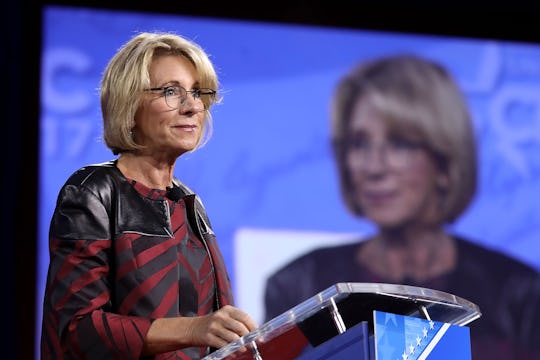 Chip Somodevilla/Getty Images News/Getty Images
DeVos Says HBCUs Are Examples Of School Choice
Betsy DeVos has been on the job as the U.S. Secretary of Education for exactly three weeks, despite immense opposition from Democrats, education groups, teachers's unions, and concerned citizens during her confirmation process. How's that been going for her? Well, on the day DeVos was sworn in, a House bill was introduced to "terminate the Department of Education" — so, just swell I guess? On Monday, DeVos released a statement following President Donald Trump's meeting with the leaders of more than 100 historically black colleges and universities at the White House. In it, Betsy DeVos said HBCUs are "pioneers" of school choice, and I'm pretty sure the entire education community face-palmed when she did.
While DeVos showed support for LGBTQ students via Twitter following the Trump Administration's rollback of trans student protections last week, DeVos may have managed to undo what goodwill she may have instilled as her Education Department statement on HBCUs totally missed the mark. DeVos's statement completely overlooked the origin of HBCUs in America entirely. While at first glance it would seem schools created just for black students during the mid-19th Century was a groovy moment in post-Civil War American progressivism, that's actually not the case at all. (The Department of Education did not immediately return Romper's request for comment.)
In addition to calling HBCUs "real pioneers of school choice," DeVos also made the following observation in her statement:
They [HBCUs] are living proof that when more options are provided to students, they are afforded greater access and greater equality.
While that statement might be correct in theory, that's just not how it played out for HBCUs.
HBCUs were created specifically because black students were banned from attending most white higher education institutions prior to the Civil War, with the exception of three schools that did allow black students to enroll. It's not like American higher education suddenly became the generous benefactors of educational access for black students; HBCUs were created by black leaders and educators in response to the educational disparity between blacks and whites.
For blacks in the 19th century, HBCUs didn't represent school "choice" — there was no choice because black students simply weren't allowed to attend white colleges and universities. HBCUs were, for many black students at the time, their sole path to higher education. And while HBCUs were originally created by blacks for blacks students, many opened their doors to white students at the same time. As of fall 2014, more than 300,000 students enrolled at HBCUs across the country — of all races and ethnicities, according to the National Center for Education Statistics.
Whether or not DeVos fully understands the history of HBCUs, it doesn't change the fact that she has mischaracterized history — a running motif of "alternative facts" within the Trump Administration. You can't call HBCUs "real pioneers of school choice" when historically, they never had a choice to begin with.