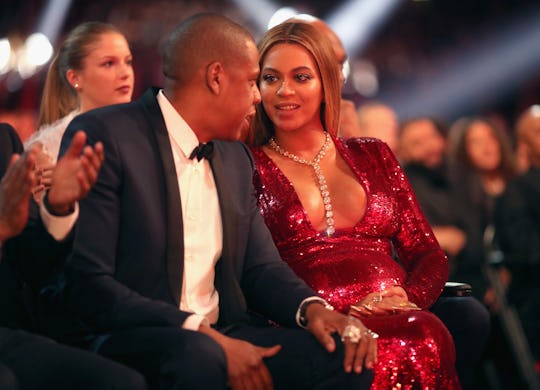 Christopher Polk/Getty Images Entertainment/Getty Images
Beyoncé Drops Anniversary Video For Jay Z, So Get Ready To Cry
This time last year, the world was still anxiously awaiting Beyoncé's masterpiece, Lemonade, the visual album that was released on April 23, 2016 on HBO, and which later had everyone talking about the superstar's relationship with her husband Jay Z. But for true Bey fans, April 4 has always been the real celebration of Beyoncé and Jay Z's true romance, since it's the anniversary of the couple's wedding. On Tuesday, Beyoncé posted a ninth anniversary video on Instagram — a snippet of the full video, which you can watch on Tidal if you have a subscription — celebrating their relationship with a new studio version of "Die With You," complete with a montage of some never-seen-before private photos of the couple being completely drunk in love with each other.
It will do things to your hopelessly romantic heart. Never one to slack on a new release, the anniversary video accompanies two other posts. One features Beyoncé's "IV" tattooed finger wrapped up in Jay's, with the words "I don't need air in my lungs if I can't sing your song." Another shows the couple's shadow on the beach, and reads, "I don't really need these fingers if I can't feel your spine." Cue the swoons.
In addition to the Instagram teasers, in true Carter-Knowles fashion, Beyoncé also shared a playlist on Tidal called "IV Ever Ever," with 63 songs, featuring Kanye West, Sade, D'Angelo, and other tracks that will make you want to call your significant other right this very minute and schedule some alone time.
Beyoncé and Jay Z are pretty private when it comes to their personal lives normally, but when it comes to their anniversary, the couple gets just as sappy as anyone else does. The first time fans were able to hear "Die With You" was two years ago, when Beyoncé shared a video of her singing the song at a piano, only to reveal that it was Jay behind the camera.
This new video shows some sweet pics of Beyoncé and Jay getting engaged, getting married, and welcoming Blue Ivy into the world. Later in the video montage, the toddler kisses her mother's stomach two times — one for each twin the family is expecting. It's the absolute sweetest thing.
Beyoncé's mom, Tina Lawson, also got in on the anniversary Tuesday. The proud grandmother posted an Instagram picture of Beyoncé at her wedding, walking down the aisle with her beau, and totally excited about having just taken her marital vows.
Lawson captioned the picture, "9 years already??? Congratulations to the Carters on their Anniversary ( thats my arm fixing the dress lol) Thats my minister Rudy Rasmus who married Solange, Beyonce and me."
This ninth anniversary is obviously a family affair. Just the way the Carter-Knowles seem to like it.
The couple that drops hits together apparently stays together. Happy ninth anniversary, you two.