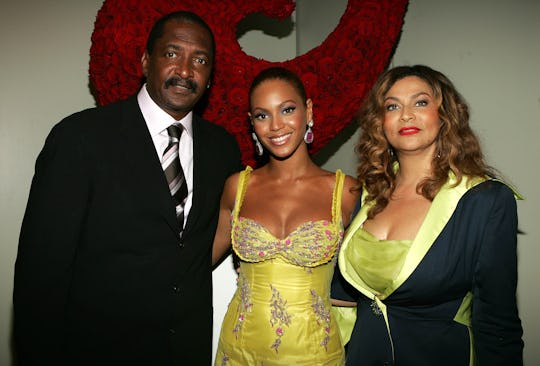 Frank Micelotta/Getty Images Entertainment/Getty Images
Beyoncé's Dad Announces Her Twins' Birth
Beyoncé's twins are here — and now it appears to be confirmed. After Us Weekly reported on Saturday that Beyoncé had given birth earlier in the week, people were rightfully excited. But for much of Sunday morning, the birth of the babies was still just speculation — until now. On Twitter, Beyoncé's dad announced the twins' birth with a sweet message, being the first of Beyoncé's family members to open up about the news.
The message, shared to both Mathew Knowles' Twitter and Instagram accounts on Sunday morning, is both simple and sweet. And yes, most importantly, it confirms that Beyoncé has, indeed, given birth to her twins. "Happy Birthday to the twins! Love, Granddad," the message reads.
The message is the first time someone related to Beyoncé has talked about the twins' birth since news broke over the weekend. Still, to some, the image is a bit suspect, especially since TMZ reported that Beyoncé gave birth on Monday last week, and Us Weekly reported that the family welcomed the twins earlier in the week as well. Knowles' photo was posted to his account on Sunday, less than 24 hours after Us Weekly's initial report. Therefore, it's unclear whether the singer's dad is out of the loop or whether he was simply sending a sweet, belated message.
Beyoncé and her dad are close to one another, so this post to his Twitter account could very well be the real deal. Last month, Knowles told TMZ that he knew Beyoncé's due date and that she was expected to deliver within a matter of weeks. Knowles was apparently right about that — Beyoncé's twins reportedly arrived less than one month after Knowles gave that interview to TMZ. However, Knowles did tell Entertainment Tonight that he did not know Beyoncé was pregnant with twins until he saw her announcement on social media, but talked to her on the phone shortly after, so really, anything is possible at this point.
Until Beyoncé comes out and says that she has given birth, we won't know for sure what day the family actually welcomed the twins to the world, or what the babies' names and genders are. Knowles' post is simply the first real confirmation that fans have had that the twins are reportedly here.
Whatever the case, the next few weeks will undoubtedly be busy for Beyoncé, Jay, and the twins' big sister, Blue Ivy. Here's hoping that Grandpa Knowles and the rest of the family are ready to pitch in so everyone can rest up.