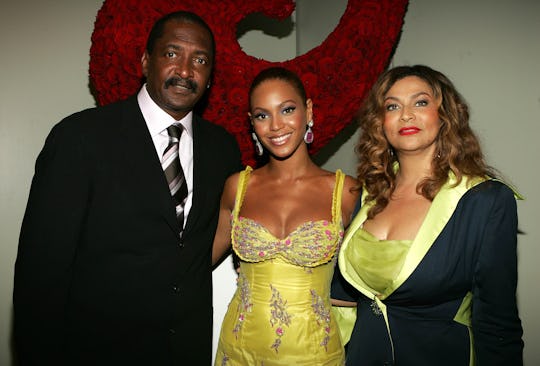 Frank Micelotta/Getty Images Entertainment/Getty Images
Beyoncé's Dad Tweets A Sweet Message About Her Twins
Beyoncé fans have been biting their nails for the last month, waiting for the singer to announce the birth of her twins. On Friday morning, Queen Bey delivered with a breathtaking Instagram post revealing the 1-month-old infants, Sir and Rumi Carter. And not a moment too soon — Beyoncé dad responded to her twins photo with this sweet and simple message just a short while later.
On Friday morning, a few hours after Beyoncé uploaded her iconic pic, Matthew Knowles took to Twitter to applaud his daughter and express his joy over her twins with husband JAY-Z. In his post, Knowles shared the photo with the caption, "Beautiful! #ProudDad #ProudGrandDad #Beyonce." It had over 65 retweets and more than 160 likes by the early afternoon.
The tweet may be short, but it's meaningful. It's clear that the music executive loves his daughter and her growing family. And luckily for Knowles, the replies to his Friday morning tweet weren't too harsh. In fact, most members of the BeyHive congratulated the singer's pop.
Of course, the same thing couldn't be said for Knowles' last Beyoncé-and-twins-related tweet. The famous dad landed in hot water previously for announcing the twins' birth before Bey and JAY-Z even had a chance. Bey fans were furious over the move.
According to Us Weekly, Queen Bey and JAY-Z welcomed twins Sir and Rumi sometime in mid-June. At that point, the news of the birth came from sources "close to the family." That was until Knowles took to social media on June 18 to confirm the twins' arrival with a generic balloon graphic that read, "Happy Birthday to the twins! Love, Granddad," according to E! News. He shared the same photo on Twitter and Instagram, with the caption, "They're here!"
Knowles' posts did rack up a lot of likes, but the BeyHive still called him out for stealing his daughter's thunder. The comments lambasting Knowles, who was fired as Bey's manager in 2011, ranged from anger to shock. The message from the BeyHive was clear: Knowles had crossed the line by announcing the twins' arrival on social media. That should have been left to Queen Bey and JAY-Z.
Bey's mom, Tina Lawson, also took to social media on Friday to express her love for her new grandkids. She also cleared up confusion over their birth date: According to Lawson's Instagram post, Rumi and Sir Carter entered this world on June 13, 2017. Now the BeyHive knows what day to bow down to these beautiful twins.