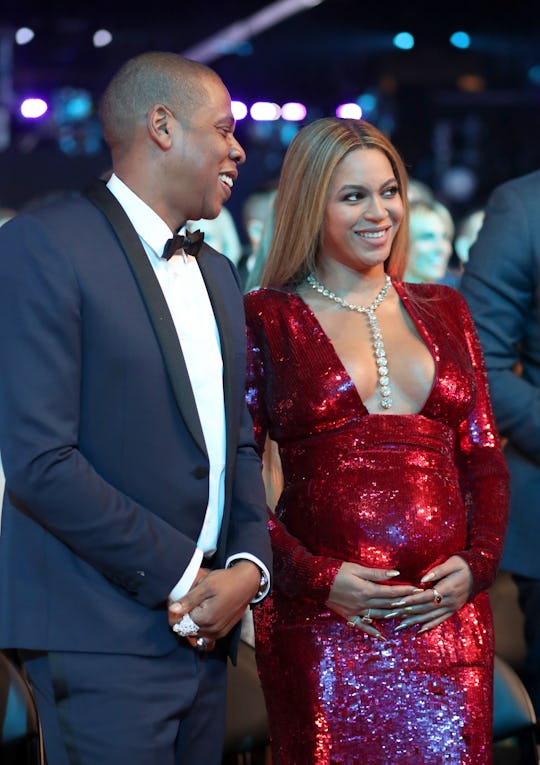 Christopher Polk/Getty Images Entertainment/Getty Images
Beyoncé Just Appeared At The Grammys & Her Look Is Legit Jaw-Dropping
If you've been keeping up with the Carters on social media this weekend, you know that they've been pre-partying hard for the Grammys, at both the Roc Nation brunch and the Clive Davis Grammy party on Saturday. So there was absolutely no doubt that Beyonce's 2018 Grammys look on the red carpet was going to be as flawless as ever.
Except that Beyoncé didn't walk the red carpet at all, which was a little nerve wracking for the BeyHive, who was wondering if the couple had made it to the event at all. When the cameras panned to JAY-Z early on in the show, it looked like she wasn't there, since she wasn't seated next to him, as expected.
JAY-Z looked put together as always, but maybe Bey was just worn out from walking red carpets all weekend and needed a break. Then, about halfway through the show, right after he lost the Best Rap Album award, Bey and Blue Ivy showed up, looking amazing as always. The Queen was dressed in an all-black long sleeve gown with a dramatic hat and the biggest diamond earrings you've ever seen, likely from Lorraine Schwartz, who accessorized her throughout the Grammy weekend, and last year's show.
If last year's Grammys were all about Bey and Lemonade, this year it's all about celebrating her husband's acclaimed album. In all, 4:44 is up for eight nominations overall, including Best Rap Collaboration for one of the tracks, "Family Feud," featuring Beyoncé, which they hopefully get to accept together. Both Bet and JAY-Z have a great track record at the Grammys.
She's taken home 22 awards out of 63 nominations while JAY-Z has won 21 awards out of 74 nomination, so if he wins tonight he'll either tie with her or surpass her — until she releases another album.
Oddly, JAY-Z is one of the only top nominees this year to not make it onto the list of performers, which hopefully means that he and Beyoncé have a secret performance planned, along with another iconic look. Fingers crossed.
Look How Great They Look
They Served Up Flawless Looks At The Pre-Party
And The Roc Nation Brunch
Given that the couple has been more out of the spotlight than usual, despite their huge successes, it's always refreshing when they do walk a red carpet together. Maybe Bey and Blue Ivy just got held up in Manhattan traffic or something. Or, more likely, they were planning on appearing on stage with JAY-Z if he won the Best Rap Album, and when he didn't they just took their seats. It's a working theory, at least.
Actually, this Grammy weekend has already been a win for Beyoncé, even though she doesn't have her own song or album up for an award this year. At the Clive Davis party, which was co-hosted by the Recording Academy, he called Beyoncé the "First Lady of music," which is absolutely correct.
Later in the evening, Alicia Keys performed a medley of about two dozen JAY-Z hits, along with awarding him an icon award, as TMZ reported. He addressed the fact that he and his wife have had very different experiences with the award show, acknowledging that he boycotted the ceremony back in 1999 when DMX wasn't nominated. He credited "a beautiful lady whom I love dearly" for bringing him back to the show when she was nominated for her first solo album in 2004, according to TMZ.
Noting the lack of diversity in Grammy wins, like the fact that only one rap album has ever won Album of the Year, he said that he "had to be here" this year, according to Billboard. "That's the whole idea: for all of us to get involved and to push this thing further," he said, according to Billboard.
The hip hop mogul added, according to People:
No matter what happens at the Grammys, it's going to be what it is: Bob Marley's gonna be Bob Marley whether he's nominated for a Grammy or not. Tupac is gonna be Tupac. Biggie is gonna be Biggie. That's true. But in this industry, we have to… the things that we hold and we love and we treasure, that we respect, we have to get involved. I stand here on the shoulders of all the beautiful people.
That he and his wife are both nominated for "Family Feud" and that his album has seven other nominations, including record, album, and song of the year, definitely shows that the Grammys are getting just the tiniest bit more diverse. And that the couple's presence at the ceremony is just further proof that their professional, political, and personal lives are sometimes one in the same.
That's a lot of work for them, but to be honest, JAY-Z and Beyoncé are the kind of pop culture royalty the world needs right now. Even if they choose to sit out a red carpet now and again.
Check out Romper's new video series, Romper's Doula Diaries:
Watch full episodes of Romper's Doula Diaries on Facebook Watch.