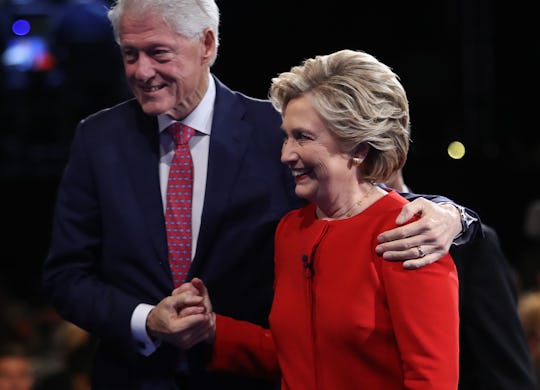 AFP/AFP/Getty Images
Bill Clinton's Response To Donald Trump's Press Conference Is Expected To "Go High"
Just before the second presidential debate began on Sunday night, Republican candidate Donald Trump finalized his "debate prep" by holding a press conference with women who have previously accused former President Bill Clinton of sexual assault, rape, or sexual harassment. The move came after a rather dramatic weekend that uncovered several recordings of Trump holding degrading conversations about women, which has been expected to be a top issue of Sunday night's meeting. Voters are still awaiting Bill Clinton's response to Donald Trump's press conference, but many on social media have already pointed out that the Clinton campaign has been well-prepared for this tactic for some time.
Trump came under intense scrutiny this weekend after a conversation published by The Washington Post on Friday that was caught on a hot mic that revealed the GOP nominee boasting about how he would use his celebrity status to force himself upon women. During Trump's video apology he issued in the aftermath of outrage and his final step of "debate prep," Trump used this tactic several times to shift the attention from his alleged long line of misogyny to Bill Clinton's past sex scandals .
While Bill Clinton has not yet responded directly, Democratic candidate Hillary Clinton shared this short, but strong message on Twitter soon after Trump held his press conference:
Trump's press conference included four women — Kathy Shelton, Paula Jones, Kathleen Willey, and Juanita Broaddrick. The latter three have each previously accused Bill Clinton of sexual assault and some have also accused the Democratic candidate of intimidating them. Shelton previously criticized former Secretary Clinton of "laughing" at her rape case (Shelton was 12 years old at the time and her alleged rapist was a client of then-legal aid defender Clinton), a claim which has since been questioned.
"Actions speak louder than words," Broaddrick claimed during the press conference. "Mr. Trump may have said some bad words but Bill Clinton raped me and Hillary Clinton threatened me. I don't think there's any comparison." (For his part, both President Clinton and his lawyers have flatly denied the allegations.)
It was expected that Trump would go after the former president's past indiscretions and House Minority Leader Nancy Pelosi pointed out even before the debate began that this strategy was not fair game.
"Elections are about the future," Pelosi told NBC News on Sunday, adding that Bill Clinton is "not on the ballot."
Media outlets and many on social media also pulled out some archives that showed that Trump took a much different approach than this Sunday's political move when Bill Clinton's admitted and alleged acts of infidelity were fresh in the 1990s.
In fact, according to The Daily Beast, nearly two decades ago, Trump even suggested the former president was a "victim" to an "ugly group of female accusers."
"I don't necessarily agree with his victims," Trump told Fox News' Neil Cavuto, which was uncovered back in May by the Daily Beast. "His victims are terrible. He is, he is really a victim himself. But he put himself in that position."
Trump continued, "These people are just, I don't know, where he met them - where he found them. But the whole group — it's truly an unattractive cast of characters. Linda Tripp, Lucianne Goldberg, I mean, this woman, I watch her on television. She is so bad. The whole group, Paula Jones, Lewinsky, it's just a really unattractive group. I'm not just talking about physical."
This past interview shows that the Republican candidate reportedly used to make light of Bill Clinton's multiple alleged extramarital affairs and sexual harassment cases from decades ago, but uses these very accusations to attack his rival's campaign now.
Meanwhile, since the latest revelation of demeaning and misogynistic comments made by Trump hit headlines and sparked controversy, he dismissed them only as "locker room banter" and a "distraction" from larger problems.
In fact, Trump's deflection and alleged lack of remorse for these latest comments perpetuates the problem of sexual assault and only reflects the epitome of rape culture. The stampede of outrage Trump has faced (which Bill Clinton faced decades ago) is completely warranted, but it's still not okay for Trump to brush off his scandals as only words and attempt to shift the attention to someone who isn't even on the ballot.