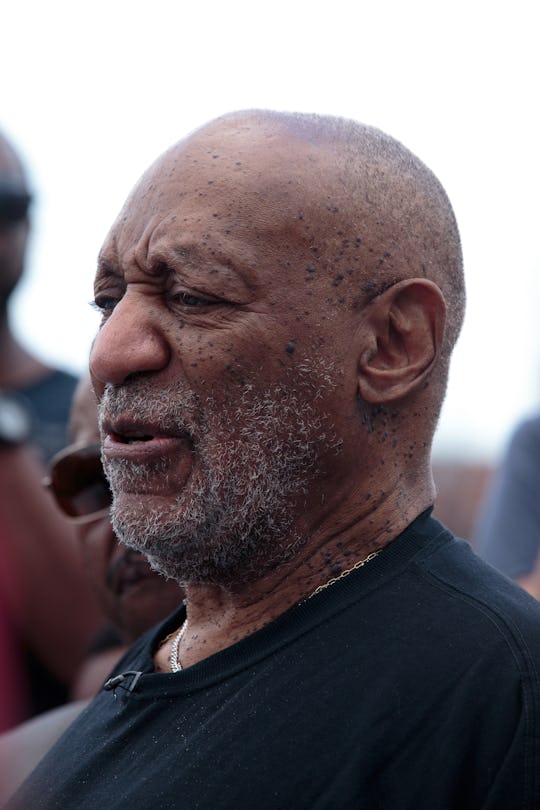 Bill Cosby's Mug Shot Released After Comedian's Arrest For Aggravated Indecent Assault — PHOTO
Hours after news spread that the comedian was served an arrest warrant for aggravated indecent assault of Temple employee Andrea Constand, Bill Cosby's mug shot hit the Internet. Indeed, things have moved quickly in the Cosby case after years and years of stagnation following dozens of sexual assault allegations against the formerly beloved comedian. But those who waited to see Cosby brought to justice for his alleged crimes at last saw him serve his day in court for an arraignment Wednesday — just weeks before the statute of limitations ran out on Constand's case.
Or should I say hours? Because Cosby wasn't in court for long. Following his arraignment, during which he pleaded not guilty, and booking, Cosby posted his $1 million bail, and left the station for his home in Cheltenham Township, Pennsylvania, according to reports. And, just as he had been relatively silent throughout the past year — when allegations continued to arise — Cosby declined to comment to reporters he passed on his way out of the courthouse, merely saying "no" when asked if he would like to comment (while those awaiting his arrival yelled such things as, "You're a monster" at the comedian, according to reports).
Cosby has, however, repeatedly maintained his innocence throughout the claims of sexual assault, with one of his lawyers dismissing the allegations as "decade-old, discredited allegations" in November 2014. And Cosby fired back at accusers this month when he filed lawsuits against seven women who claimed to have been assaulted by The Cosby Show star. His case, however, was delivered a blow when, back in July, it was revealed that he admitted to giving women Quaaludes in a 2005 deposition related to Constand's civil suit against the comedian.
Surely, they are among the many who are relieved to see that Cosby has been arrested, with a mug shot and all.
According to Montgomery County District Attorney-Elect Kevin Steele, the District Attorney for the county reopened the Constand case after Cosby's deposition was made public. Constand had accused Cosby of drugging and sexually assaulting her at his home in 2014. Cosby had claimed the encounter was consensual, while Constand maintained she was in a relationship with a woman at the time of the incident. Said Steele during a press conference Wednesday:
A prosecutor's job is to follow the evidence wherever it leads and whenever it comes to light ... Upon examination of all the evidence, today we are able to seek justice on behalf of the victim.
Cosby could face up to 10 years in jail if he's found guilty.
Image: David A. Smith/Getty; Elkins Park Police