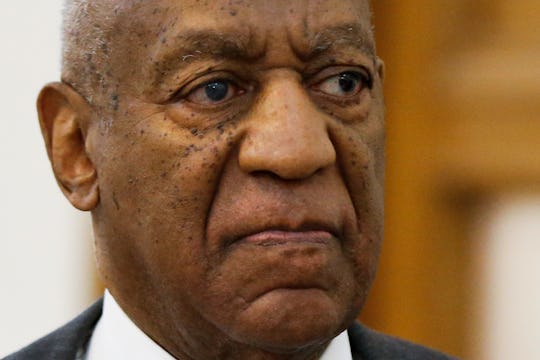 Pool/Getty Images Entertainment/Getty Images
Bill Cosby's Sexual Assault Trial Date Has Been Set & It's Going To Be A Major Event
Although the eventual trial of onetime comedian Bill Cosby will focus on his alleged sexual assault of just one woman, it will serve as a possible conduit of justice for the dozens of women who have also accused him of drugging and/or sexually assaulting them as well. The 58 alleged assaults happened over the course of four decades, and now, finally, Bill Cosby's sexual assault trial date has been set for June 5, 2017. In this case, stemming from a 2004 incident at his Pennsylvania mansion, Cosby maintains that the sexual contact was consensual. Cosby's representative, Andrew Wyatt, declined to comment, and lawyer Brian McMonagle did not immediately return Romper's request for a statement.
For his part, 79-year-old Cosby has pled not guilty to each of the three second-degree felony counts of indecent sexual assault leveled against him for the alleged assault of Andrea Constand. At the time of the alleged assault, Constand was an employee at Cosby's Philadelphia alma mater, Temple University. The actor had reportedly formed a close friendship with Constand allegedly because he was interested in her romantically, People reported in May. The same month as the People report, the court unsealed a deposition Cosby gave in 2005 and 2006 in relation to a civil suit filed over the matter. (Previously, the two had reportedly reached an out of court settlement.)
The disgraced entertainer's defense team is working hard to ensure that the deposition — during which Cosby admitted to purchasing Quaaludes (which can immobilize a person) to use in pursuing sex with women — not be permitted as evidence in court, according to USA Today. His lawyers argued that it should be inadmissible because the district attorney at the time verbally promised Cosby not to prosecute if he agreed to the interview.
There's also the phone call between the alleged victim's mother, Gianna Constand, and Cosby more that a decade ago, which Gianna surreptitiously recorded. In it, NBC News reported, Cosby and Gianna allegedly discuss the possibility of his paying for Constand's graduate school and he acknowledges that he gave pills to her daughter (although he continues to insist everything that happened in the house was consensual). Cosby's team wants to suppress that because the Cosby was never told he was being recorded, a violation of Pennsylvania's wiretapping laws. Constand was in Canada when she called Cosby, however, and he was in California.
Perhaps the most damning aspect of the ever-strengthening case against Cosby will be the testimony of up to 13 other women who claim he assaulted them in a similar manner, if the judge grants the prosecution's motion to include them as witnesses. The 12-year statute of limitations prevents many of Cosby's accusers from pressing charges now, but their testimony could be incredibly powerful in front of a judge and a jury.
Beverly Johnson, for example, alleged in a December 2014 Vanity Fair piece that Cosby had repeatedly hosted her at his home in the mid-1980s, ostensibly to audition for acting roles. During one visit, right after she sipped a cappuccino Cosby gave her, her "head became woozy, my speech became slurred, and the room began to spin nonstop." When she reportedly resisted him, he allegedly roughly carried her from his home and put her in a taxi. In 1984, Beth Ferrier also accepted a cappuccino from Cosby, in his dressing room after show in a Denver nightclub — and allegedly woke up in the back of her own car with her bra unhooked, as she told New York Magazine for a July 2015 cover story that featured 35 of Cosby's accusers. Cosby was not charged in either case.
If he's convicted in the Constand case, Cosby could be sentenced to up to 10 years in prison. It's certainly an outcome that his many, many accusers could prefer to no time at all, but also seems paltry if he truly did commit the many crimes for which he stands accused.