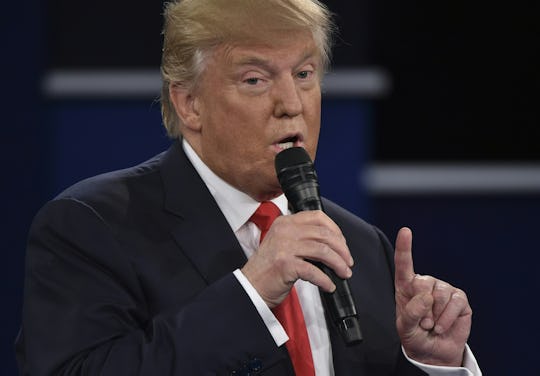 PAUL J. RICHARDS/AFP/Getty Images
#BillyBushMadeMeDoIt Tweets Prove People Want Donald Trump To Take Responsibility
Republican Party presidential nominee has notably received backlash for his inexcusable comments about women and people of varying racial and religious groups, both before and during his presidential run. And now, a recently-leaked recording of a conversation he had about women in 2005 has people around the country further outraged and concerned about the presidential election. The tape revealed him talking about his supposed interactions with women, which painfully described sexual assault. His conversation with the then-host of Access Hollywood, Billy Bush, is disturbing. And after his wife Melania's interview with CNN's Anderson Cooper on Monday night, a slew of #BillyBushMadeMeDoIt tweets prove people want Trump to take responsibility.
Since The Washington Post released the 2005 recorded conversation between Trump and Bush, the backlash has been swift – and rightfully so. Trump was heavily criticized for his remarks in which he boasted that his fame allowed him to do what he pleased with women, like "grab them by the p---y." He boasted to Bush that he could "do anything" like "just kiss" women he deemed beautiful, and without even waiting.
By definition, his remarks absolutely describe sexual assault, even if, as Trump has claimed, he never followed through himself. The Department of Justice states:
Sexual assault is any type of sexual contact or behavior that occurs without the explicit consent of the recipient. Falling under the definition of sexual assault are sexual activities as forced sexual intercourse, forcible sodomy, child molestation, incest, fondling, and attempted rape.
Trump's boastful remarks indicated that he did not receive explicit consent, and his remarks, especially as it pertained to his alleged actions, and can't be ignored.
Bush can be heard on tape also discussing women and their bodies, while laughing with Trump. As CNN Money reported, Bush has officially exited his new hosting gig on the Today show as of Monday. The host hasn't appeared on the show since the tape released on Oct. 7, CNN reported.
And although Trump has apologized for his remarks in the tape, he and many of his staunch supporters have insisted, that his words were merely consistent with "locker room banter." It's an excuse and a misguided response to the dangers of rape culture that many athletes – who, you know, actually spend time in locker rooms – have pushed back on.
Trump needs to take full responsibility for his words (all of them). And his wife, Melania's interview with Cooper on Monday only proved that point further.
In a the sit-down on Monday evening, Melania seemingly attempted to excuse Trump's remarks in the tape by saying he was "egged on" by Bush to say "dirty and bad stuff." This, of course, sparked the hashtag #BillyMadeMeDoIt. Voters were quick to point out that Trump is the only one responsible for his words:
As many on the Twitterverse noted, even if Trump was egged on by Bush to say joking things about sexual assault, that, still, would be reason to question his character.
Most importantly, it was Trump who said those words — a grown man — and who claimed to have allegedly acted out those words, on his own accord. As a presidential nominee, and as a person, he is the only one who should be held responsible for his words.