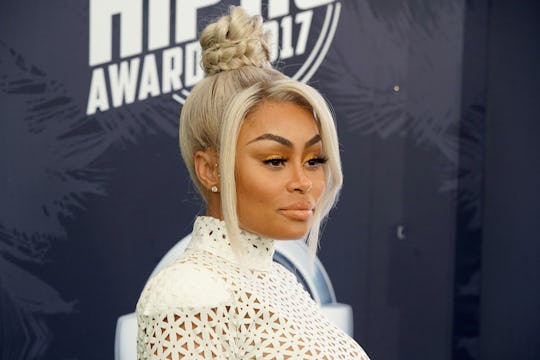 Bennett Raglin/Getty Images Entertainment/Getty Images
Blac Chyna Is Teaching Dream To Walk With Chicken Nuggets, & It's Seriously Genius
Some toddlers are desperate to try to start walking, while others need a little incentive. You know, a little something to sweeten the pot because learning to walk is crazy hard work and a kid builds up an appetite. If there's not food involved, what's the point? Take Dream Kardashian, for instance. When Blac Chyna taught Dream to walk with chicken nuggets, the sweet little girl was all about it.
The model and Lashed owner shared a Snapchat video of her 11-month-old daughter trying to walk on Tuesday, and it's seriously adorable. First of all, get a load of Dream Kardashian's smile. And I can totally identify with her desperate need to get her hands on some chicken nuggets. Especially since the nugget in question appeared to have a bite out of it... clearly time was of the essence.
In the video, Chyna is coaxing her daughter to walk to her with a nugget in hand, calling out to her "Dreamy, Dream, Dreamy! Go! Go! Go!" The curly-headed baby, whose father is Chyna's ex, reality star Rob Kardashian, wobbled towards her mother wearing a pale pink t-shirt dress. And more importantly, towards the delicious chicken nugget that was destined to be her prize. While some are most certainly going to judge Chyna for using positive incentives to encourage her daughter to walk (some might even call it bribing, I guess), it's a credible parenting tool that has been passed down through the ages, in my opinion. Although probably not with chicken nuggets.
These steps towards the chicken nuggets were especially momentous for Dream and her mom, because these were her first social media steps, as People pointed out. While she didn't quite make it all the way to her prize without stumbling adorably on the floor, I'm going to go ahead and assume her mother gave her the chicken nugget for a really impressive effort. After all, Dream is walking one month before her first birthday, which means she's just slightly ahead of the curve when it comes to this important baby milestone, according to Baby Center.
It probably helps that she has a big brother King Cairo, Chyna's 5-year-old son from her previous relationship with rapper Tyga, to keep up with. Young King was also on hand during Dream's first social media steps; Chyna posted a video to Snapchat of King playing with a pole while his little sister looked on from the floor.
The little family of three have been enjoying some quality time together recently, including some Halloween dress-up time when King and Chyna dressed as matching skeletons. Dream had several costumes, including a little skeleton onesie with a purple tutu and an adorable Raggedy Ann doll costume, complete with the red wig and a big grin. Chyna shared pictures of the family's Halloween adventures on Instagram.
It seems as though life is returning to normal for Chyna and her kids, in the wake of several harrowing months locked in a custody battle with Dream's father, Rob Kardashian. In September the former couple came to an undisclosed custody agreement, Chyna's lawyer Lisa Bloom told E! News, and they're trying their hand at co-parenting. Bloom told the news outlet:
Chyna is pleased that Rob has agreed to peacefully co-parent Dream with her, as she has been requesting all along.
As the pair continue to figure out their grown-up drama, I like to imagine Dream Kardashian happily snacking on her hard won chicken nugget. Because that is the beauty of learning to walk when you're a baby; that's basically the only thing you have to worry about. Not such a bad gig.