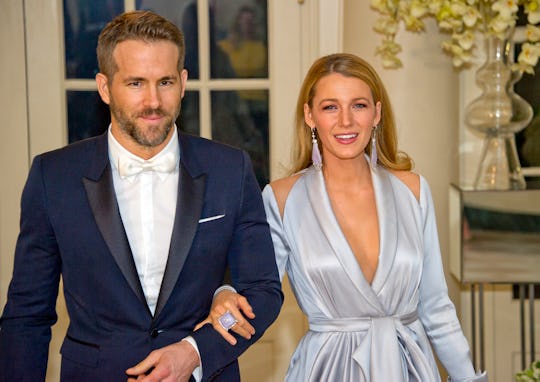 Pool/Getty Images News/Getty Images
Blake Lively & Ryan Reynolds Confirm They Had A Girl In The Most Casual Way Ever
Viewers of Wednesday night's episode of Conan might have missed the news if they coughed at the wrong moment, but Ryan Reynolds confirmed that it's a girl for him and wife Blake Lively in the most casual way ever during an appearance on the late night talk show. Speaking to host Conan O'Brien on how he's adjusting to having two children, Reynolds complained about the estrogen overload in his house, saying that "It feels like an American Girl Doll just took a sh*t on my life," and joked about finding "a tiny shoe" in his breakfast cereal.
This vague reference to his child's gender is actually a big deal; the notoriously private couple don't go in for five-page People magazine photo shoots announcing the arrival of their children the way some celebrities do. The baby, whose name is still unknown, is believed to have been born in late September, due to a leak from an anonymous source in Page Six. In fact, fans only learned of Lively's second pregnancy when paparazzi spotted her on the set of her summer thriller The Shallows in April, unable to hide her growing belly in a wet suit. The actress finally officially confirmed that she was pregnant on Late Night with Seth Myers in June.
Keeping quiet about their personal lives is par for the course for the couple, who got married in 2012 before the public even knew that they were engaged. According to E! News, Reynolds told the now-defunct Details magazine in 2013:
I don't intentionally try to be evasive about that stuff. If you ask me to describe my relationship, I mean — words are too clumsy to accurately describe how I feel in that regard, particularly in an interview. It's a strange thing. I understand the climate we live in and why people are curious. But it's just tough and almost emotionally violent — for anyone, I think — to see your personal life summarized in a sentence.
Reynolds and Lively also kept quiet about the birth of their first daughter in December 2014, although Page Six caught the scoops weeks later. The birth was revealed on Jan. 5, 2015, and it wasn't until her first birthday that the date was confirmed, when Reynolds tweeted, "Happy birthday to my baby girl! Sad I lost my virginity. But thankful I have a daughter." It wasn't until March 2015 that Reynolds announced on Today that his daughter was named James, after his late father. If the family follows the same pattern, fans could expect to learn the name of baby No. 2 around the time of her big sister's second birthday.