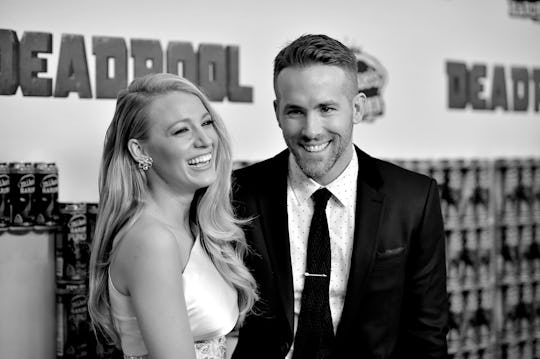 Dimitrios Kambouris/Getty Images Entertainment/Getty Images
Blake Lively & Ryan Reynolds Have Chosen A Name For Their 2nd Child, But It's Still Secret
Actors Blake Lively and Ryan Reynolds are one of the most well-loved celebrity couples in Hollywood. They recently added to their brood with the birth of their second daughter, who up until now hasn't had a name! Blake Lively and Ryan Reynolds have finally settled on a name for their second child — but the couple isn't sharing it just yet.
Lively and Reynolds met back in 2010 when they were filming a movie together. Reynolds had previously been married to Scarlett Johansson. After the split, Reynolds went on a double date and ran into Lively, who was part of the other couple. Reynolds recalled the night in an interview with People:
She was on a date with another guy and I was on a date with another girl. That was the most awkward date for that respective party because we were just like fireworks.
The two began seriously dating in 2011 and were spotted at movie premieres, galas, and out and about around Hollywood. Even though Reynolds thought it was love at first sight, Lively told People the sparks took a little longer to ignite for her:
We were such good friends for so long and we both got to know each other as friends. It didn't click for a good year and a half.
The couple married in 2012. They welcomed their first child, a daughter named James, in 2014. James will celebrate her second birthday on Dec. 16. Reynolds and Lively welcomed their second daughter — whose name they have yet to reveal — in September.
In an interview with eTalk's Ben Mulroney, Reynolds said that the couple had settled on a name for their new baby girl — but didn't divulge what it is. Reynolds did say that in terms of their new daughter's name: "We settled on the right one," he said, according to E! News.
Lively and Reynolds aren't the first to keep their new baby's name under wraps: Britney Spears, Uma Thurman, Isla Fischer and Sacha Baron Cohen, and Anna Paquin all took months to reveal their babies' names to the public.
Having two daughters and his wife has left Reynolds outnumbered, but he couldn't be happier or sound like a prouder dad. According to People, Reynolds said of things at home:
There's just more. There's more love. There's more diapers. There's more all that stuff, you know. It's really kind of profound. I just love watching my older daughter take care of the newborn. That's been kind of neat to see.
More love, more diapers? That's definitely a totally relatable sentiment for any new parent, whether they're famous or not.