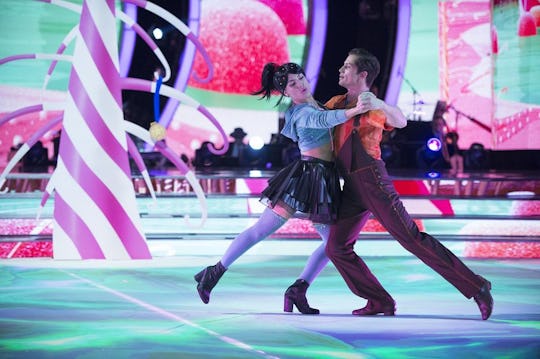 Eric McCandless/ABC
Bonner & Sharna Tackled A Popular Boy Band On 'DWTS'
Week 6 saw yet another romantic dance routine as Bonner Bolton and Sharna Burgess performed "I Want It That Way" on Dancing With the Stars, but it wasn't really surprising, The chemistry that the duo seem to share both on and off the ballroom floor is pretty well known by now, so everything about their choreography made total sense for the pair.
On a night when Julianne Hough was replaced by The Backstreet Boys' Nick Carter, Burgess and Bolton were tasked with dancing to "I Want It That Way," which certainly brought on the pressure, but afforded them a score of 30 out of 40. Carrie Ann Inaba did mention that the pair's routine was an improvement from the previous week and Carter himself said, "I can't be more proud of what I saw on the dance floor tonight."
Burgess and Bolton's performance to "I Want It That Way" on DWTS was full of the sexiness and romance the pair have come to be known for, especially among the fans who continue to 'ship them and hope that the season will end with the Bolton and Burgess announcing that they're a couple. And was that a kiss Burgess planted on Bolton's cheek at the end of the routine? Maybe, maybe not, but it was definitely what you'd expect from Denim N Diamonds.
Despite Bolton saying during rehearsals, "I'm probably the weakest dancer on the show, to be dead honest," everything in their routine, from the little skit beforehand, to the sexiness that came out, was perfect for that particular song. This week saw several of the contestants doubting themselves and Bolton wasn't any different, but when he and Burgess get out on the ballroom floor, it's like they're able to channel all of the chemistry they seem to share into a passionate and captivating routine.
Since the beginning of the season, hopeful fans and even Julianne Hough (who said after their first dance that she could see something big brewing between them) seemed to see a spark between the duo. Naturally, that has continued to come out and when Bolton and Burgess performed "I Want It That Way" on DWTS, there were more of those sparks between them.
Of course its been said time and again that while the two are individually single, there's nothing romantic going on between them. But it's hard to not root for something to ignite for real, especially after each of their romantic or sexy routines each week.