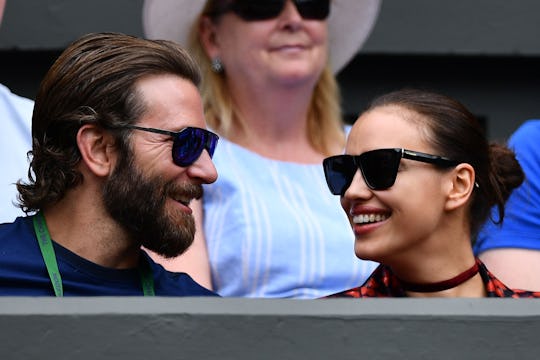 LEON NEAL/AFP/Getty Images
Bradley Cooper & Irina Shayk Are Reportedly Expecting Their First Child Together
Looks like the exciting secret might be out! Actor Bradley Cooper and Irina Shayk are reportedly expecting their first child together. According to E! News, sources say the Victoria's Secret model has kept her pregnancy out of the public eye for months, and that she is reportedly already in her second trimester and "so excited" to become a mother.
Along with the happy news that the A-list couple has an impending bundle of joy on the way, the 30-year-old Russian supermodel and 41-year-old American Sniper star have also managed keep a low profile about their relationship. The pair reportedly became an item back in April 2015, after they were spotted kissing and holding hands in New York City.
News that Shayk and Cooper were expecting came just after the beautiful lingerie model strut her stuff down the bedazzled catwalk at her first Victoria's Secret Fashion Show in Paris early Wednesday evening. And as many keen eyes pointed out, the mama-to-be kept her midsection covered up as much as possible at the fashion show, as she wore a long beige trench coat with thigh high boots in at least one of her runway looks and a red fringe robe in another sparkly number.
It also didn't go unnoticed that she managed to keep her could-be growing baby bump under wraps with a signature pink Victoria's Secret silk robe while she got ready for the event, while some photos of other Angels in their pink robes show off a bit of their midriffs.
Even though the private couple hasn't confirmed or denied the exciting news for themselves yet, a source told E! News that early on in their relationship — more than a year ago, in July 2015 — they were already "seriously considering" starting a family together. The source said at the time that they "couldn't be happier with how their relationship is progressing." The E! News source continued:
They both want kids one day and that's been discussed between them. They have a huge attraction to each other between their personalities and their sexual energies. You see them in a room and you immediately are in love with them as a couple.
And even more recently earlier this month, another source told E! News that "they are in an extremely happy place between the two of them," adding that "they have discussed marriage and kids."
So while neither star or their reps have chimed in about the exciting baby news yet, it's a safe bet that all fans are sending their congratulations to the soon-to-be parents!