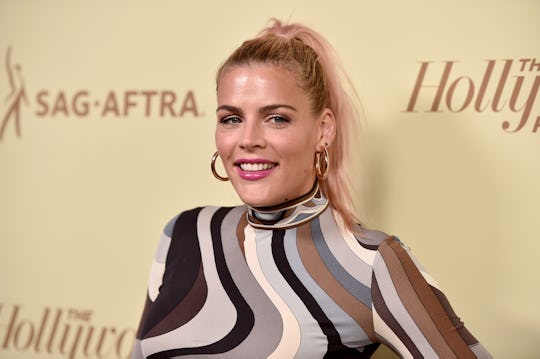 Alberto E. Rodriguez/Getty Images Entertainment/Getty Images
Busy Philipps Chose The Most Magical Location For Her Family's 2018 Holiday Card
If you're a fan of cute celeb families, there's a good chance you'll love Busy Philipps' 2018 holiday card at Disneyland featuring her adorable husband and two daughters.
Holiday cards can be tough for a number of reasons. The first hurdle is figuring out the outfits situation. Do you coordinate? Is there a theme? What about the casual versus dressed up dilemma? So many questions, so little time.
Then there's the location issue, arguably the most frustrating piece of the holiday card puzzle. Although heading over to your local department store's photo studio is fine, it can be expensive and too much effort for what it's actually worth. And in my personal experience, this locale is a top destination for kids to experience meltdowns. Just ask my sister, who threw a fit in our local Sears at age four because my mom wouldn't let her incorporate a Barney stuffed animal into our annual Christmas photo. It was a scene.
But if your Philipps, these headaches aren't issue. Why, you ask? That's because Philipps partnered with Tiny Prints, an online stationery boutique that's apart of Shutterfly, Inc. Philipps chose to take her photo at Disneyland, one of her favorite spots for family bonding. The cute pic — featuring her daughters, Cricket, 5, and Birdie, 10 — was displayed against a blue border decorated with gold snowflakes.
Talk about a beautiful photo, right? What particularly stands out to me is how happy and bonded the family looks. It's an especially poignant image due to what Philipps and her husband, Marc Silverstein, went through shortly after they had kids.
"He was not understanding how to be a dad and, in fact, didn't try. I was parenting by myself," Philipps said about Silverstein's initial reaction to fatherhood, according to People. "When I told him I wanted to have a second child, he said, 'Fine, but it's all on you.' That was so heartbreaking."
She added: "Marriage is always hard, but especially when you have kids … You're going to go through periods when you're not into it, but there always has to be one person willing to fight. I went to Marc several times and said, 'I cannot do this anymore. Something has to change, and it's you.'"
The good news? Philipps and Silverstein managed to work things out.
"We've had a lot of serious discussions and counseling, and he's incredibly participatory now in a way I don't think he could've imagined before," Philipps revealed. "We're a work in progress but trying our best, and that's the most you can do."
Co-parenting stuff aside, another great thing about this photo is Tiny Prints' partnership with Baby2Baby, an organization that "provides low-income children ages 0-12 years with diapers, clothing and all the basic necessities that every child deserves," its website states.
Busy visited Baby2Baby's headquarters on Wednesday to wrap presents for families in need, which is a pretty awesome move if you ask me.
If you want to help out too, you can purchase one of the 14 cards in the 2018 Baby2Baby Holiday Collection. A portion of the proceeds will go to the organization, according to a press release.
On that note, happy holidays to Philipps and her gorgeous family. You guys really know how to take a stunning shot.
This first-time mom wants to have a home birth, but is she ready? Watch how a doula supports a military mom who's determined to have a home birth in Episode One of Romper's Doula Diaries, Season Two, below. Visit Bustle Digital Group's YouTube page for the next three episodes, launching every Monday starting November 26.