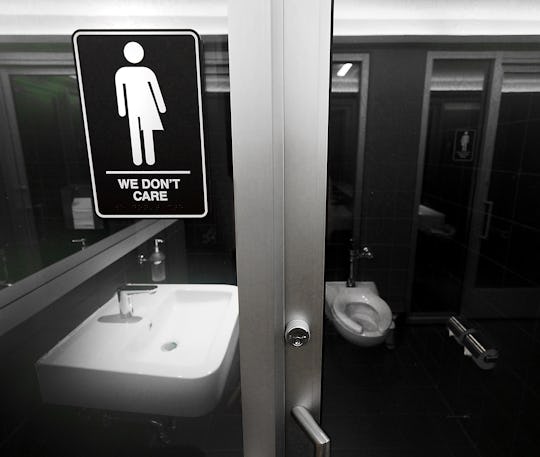 Sara D. Davis/Getty Images News/Getty Images
Can The ACLU Sue Over Transgender Bathroom Rights?
As one of his last major acts in office, former President Barack Obama issued a guidance that secured federal protections for transgender students. Under the May order, schools must allow youth to use the bathrooms aligning with their gender identity. But, in August, a federal judge temporarily blocked the guidance from going into effect. And on Wednesday, President Donald Trump invalidated the rights of transgender students when his administration withdrew Obama's landmark order. The move has left families and LGBTQ activists horrified, with many concerned about next steps. That includes whether the American Civil Liberties Union (ACLU) can sue over Trump's transgender bathroom memo. There's legal precedent for a lawsuit, but not over the cancelation of the directive.
If the ACLU were to sue the Trump Administration, it wouldn't be on the revocation of the Obama-era guidance because the U.S. Department of Education and U.S. Department of Justice issued a joint memo, not an order. Instead, the civil rights organization could file a federal lawsuit based on the administration's failure to protect transgender students under Title IX of the Education Amendments Act of 1972, Jessica Mason Pieklo, vice president of law and the courts for Rewire, told Romper.
In April 2014, the U.S. Department of Education's Office of Civil Rights clarified that Title IX protected transgender youth from discrimination on the basis of sex in public schools and other federally-funded activities and programs. Obama's May guidance reiterated this directive. But the DOE and DOJ ultimately rejected the law and the rights of trans students when it claimed in its one-and-a-half page letter that the May order did not "contain extensive legal analysis or explain how the position is consistent with the express language of Title IX," according to BuzzFeed News.
Whether the ACLU will move forward with a federal lawsuit over the memo remains to be seen. That may depend on what opinion the U.S. Supreme Court issues in the case of G.G. v. Gloucester County School Board. In 2015, the ACLU filed a complaint against the school board of Gloucester County, Virginia, on behalf of Gavin Grimm, a 17-year-old trans boy who was denied the right to use the bathroom aligning with his gender identity. A lower court ruled in Grimm's favor, but the board challenged the decision; in August, the Supreme Court blocked the Fourth Circuit Court of Appeals' order. But in October, SCOTUS announced it will review the federal appeals court's ruling, according to The Advocate.
In a New York Times op-ed published Thursday, Ria Tabacco Mar, a staff attorney with the ACLU's Lesbian, Gay, Bisexual, Transgender and H.I.V. Project, wrote,
Now, the Supreme Court must soon solidify protections for Gavin and students like him across the country. Gavin's case could neutralize the Trump administration's cruel dispatch directed at vulnerable transgender youth. We have warned President Trump many times that we'll see him in court, but this time, we're already there.
Although the Trump Administration rolled back federal protections for transgender students, cities and states have vowed to uphold their nondiscrimination policies. According to BuzzFeed News, Washington State Attorney General Bob Ferguson said recently that he will make sure "protections for transgender and gender non-conforming students are enforced fairly and vigorously." Ferguson, BuzzFeed News went on to report, is among three state attorney generals who have publicly said they will continue to safeguard the rights of trans youth in schools. School districts in Philadelphia and Los Angeles have also promised the same.
A recent policy brief from the Fenway Institute and the Center for American progress found that one-third of transgender youth already feel unsafe at school because of their gender identity or expression. The Gay, Lesbian and Straight Education New York also found that transgender students are already targets for threats, harassment, and assault by parents, students, faculty, and school staff — a reality . And research shows that so-called "bathroom bills" targeting the trans community actually perpetuate violence against transgender people by cisgender people. By revoking Obama's order, the Trump Administration has put the safety of transgender students in public schools further at risk.