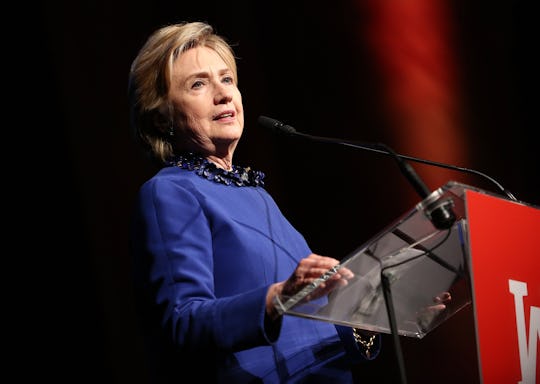 Monica Schipper/Getty Images Entertainment/Getty Images
What Would Releasing Clinton's Concession Call Achieve?
Some people just really don't know when to let go, do they? Like an ex that just can't take the hint. Or the Trump administration, it seems. Months after the 2016 presidential election concluded, President Trump and members of his team continue to bring up the election results repeatedly (always failing to mention that Trump lost the popular vote, though). And now, Trump's director of social media, Dan Scavino, has taken to Twitter to tease a special insight into what happened after Trump was declared winner; Specifically, Scavino says he'll soon release a recording of a phone call from Trump's former rival on the night she lost the election. But can the White House actually release Hillary Clinton's concession call? The answer is unclear, but the motives are potentially troubling nonetheless.
As The Guardian reports, "all digital communications — meaning telephone calls, emails, online chats and the like — are automatically recorded and stored and accessible to the government after the fact." So, whether or not Scavino actually releases the video, it is still possible for other government officials to release the phone call themselves, technically speaking.
Alongside a screenshot of what Scavino claims is Kellyanne Conway's cell phone call log, Scavino tweeted, "I have on video and will share in the near future." The photo features an incoming call from Clinton campaign aide, Huma Abedin, in what appears to be Clinton's concession call to Trump on election night last year.
And while it may be that Scavino can pretty much do whatever he wants with the alleged video, it's interesting that he would choose to share such footage considering that Shattered — the new book that delves into the Clinton campaign, which was written by Jonathan Allen and Amie Parnes — already gives a detailed description of Clinton's concession call, as Vox reported.
Scavino tweeted the screenshot from his personal Twitter account Tuesday morning, supposedly marking the six-month anniversary of Trump's victory. Conway was quick to reply to the tweet, alleging that Clinton supporters were still not over Trump's victory.
The possibility remains that Scavino is attempting to further divide Trump supporters and Clinton supporters, using the video as a way to poke fun at Clinton's call. However, that wouldn't necessarily be a smart move, or a compassionate one. A concession call is likely one of the losing candidate's worst moments, and broadcasting that moment to the world is cruel and serves no political purpose — it's just plain petty.
But, there's also another reason Scavino could want to leak the call. Perhaps taking a note from Kim Kardashian's infamous Snapchat in which she attempted to call out Taylor Swift lying about hearing Kanye West's lyrics about her, Scavino is attempting to prove Clinton campaigners wrong in their depiction of the phone call. To clarify, here is the Shattered recollection of Clinton's phone call, per Vox:
Hillary took Huma's phone and faked a smile with her voice. "Congratulations, Donald," she said, suppressing the anger that touched every nerve in her body. "I'll be supportive of the country's success, and that means your success as president." Trump credited her for being a smart opponent who ran a tough campaign. The denouement lasted all of about a minute.
Whatever Scavino is attempting to do by releasing his video, the fact remains that he apparently can, no matter how cruel and insensitive that may be.