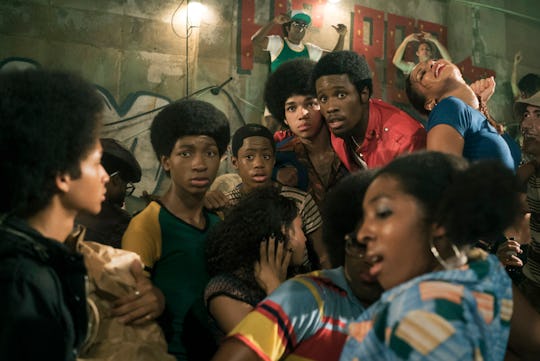 Myles Aronowitz/Netflix
Can You Buy 'The Get Down' Soundtrack? It's An Impressive Collaboration
After just one episode of Netflix's new series The Get Down, you'll almost definitely be craving the music that defines the show's world. Music is essential to the story, and not just because a majority of the plot revolves around it. It's a huge factor in the show, one that sets the scene and tells you about the characters; it explains where they came from and where they're going. And as soon as you hear it, you're going to want to listen to it any time day or night. So can you buy The Get Down soundtrack?
Luckily, the soundtrack was made available the very same day the show's first six episodes were released on Netflix: August 12. The soundtrack will reflect the sounds of the series – namely, disco and hip hop, which supervising producer Nelson George called "at war with each other" in the show – and its 1970s setting, but also the mindset behind the show's creative efforts. It seeks to represent a diversity of musical styles and also bridge the gap between music of the time and music currently. "While our production is a musical that embodies many classic hits, we also use contemporary sounds and techniques connecting the dots between then and now," said Baz Luhrmann.
The soundtrack will contain original music from the show and the cast as well as contributions from other artists. The long list is pretty impressive, and it's not even complete: Grandmaster Flash, Nas, Miguel, Christina Aguilera, Zayn, Michael Kiwanuka, Leon Bridges, Jaden Smith, Raury, Nile Rodgers, Malay, and Emile Haynie are just some of the names to look forward to seeing on the soundtrack.
There's also some serious behind the scenes talent involved; the soundtrack was produced by Luhrman and Nas, who was involved creatively in the show itself. In addition to producing the show and the soundtrack, Nas wrote for the show's narrator, a 90s-era hip hop star telling the story through rap during a Madison Square Garden concert. "One of the great collaborations is that I've been working really closely in creating these rhymes, and he's a producer on the film, with one of the most iconic voices of the '90s and that's Nas," said Luhrman of their collaboration. "And so Nas has been this other huge creative force in the production. And it's been playing really, really successfully."
The soundtrack will be released through Apple Music and you can pre-order it as soon as August 5. Until then, you can get a taste by listening to Miguel's song for the soundtrack, "Cadillac" and by taking a look at the soundtrack's tracklist.