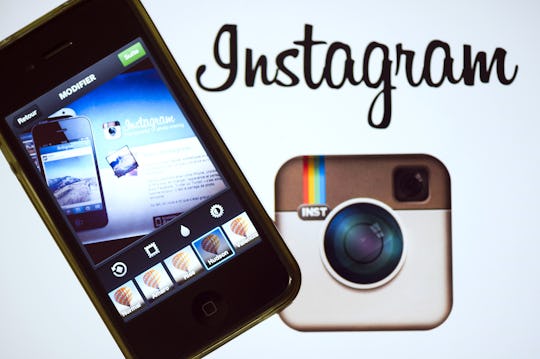 LIONEL BONAVENTURE/AFP/Getty Images
Can You Opt Out Of Instagram Stories? Not Everyone Is Loving The New Feature
Okay, so it's big news. I mean, not "Pokemon Go" level news or anything, but big enough. Social media giant Instagram has just rolled out a new feature, Instagram Stories, that essentially allow users to share slideshows not just of a single moment, but as a series of photos of their entire day. And while the user sharing a million pictures of a day well spent at the gym or wherever might be loving it, some users are desperately trying to figure out if they can opt out of Instagram stories altogether.
While it is possible to control who sees your Instagram story and whose story you want to see by clicking on their profile picture when there is a colorful ring around it, it's not possible to simply opt out of Instagram Stories altogether at this point. The good news is, the feature is a little more dignified than the usual mad dash for "likes" of a regular post. According to the company, which announced the news in a blog this week, here's how the process works:
To view someone's story, just tap on their profile photo. It's easy to view stories at your own pace: tap to go back and forward or swipe to jump to another person's story. If you want to comment on something you see, you can tap and send a private message to that person on Instagram Direct. Unlike regular posts, there are no likes or public comments.
Sounds good, right? Is everyone just loving it? Um... nope. Already, social media has had plenty to say:
This new feature might look eerily familiar to Snapchat users. Snapchat Stories was the first social media image sharing app that allowed users to create short videos that would disappear after 24 hours. And now, Instagram (which is owned by Facebook) has added Instagram Stories, which allows users to create short videos that (you guessed it) disappear after 24 hours. According to the Instagram blog,
With Instagram Stories, you don't have to worry about overposting. Instead, you can share as much as you want throughout the day — with as much creativity as you want. You can bring your story to life in new ways with text and drawing tools. The photos and videos will disappear after 24 hours and won't appear on your profile grid or in feed.
Some users aren't especially crazy about the fact that Instagram clearly fed off Snapchat in what is becoming an increasingly tight battle to out-share each other:
While Snapchat may have invented the concept of sharing your entire life stories for brief vignettes of time rather than posting stand-alone imaged, Instagram has now gotten on board. As Instagram CEO Kevin Systrom told Tech Crunch, "They deserve all the credit."
Either way, one thing is for certain: We are all going to be subjected to way more earnest photos of contemplative girls posing in front of waterfalls/sunsets/big plates of food they don't eat than we were before.
So there is that.