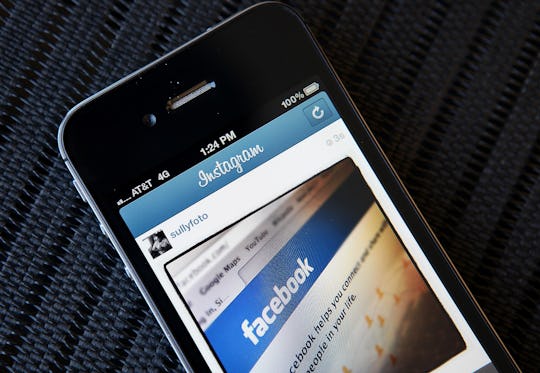 Justin Sullivan/Getty Images News/Getty Images
Can You Save An Instagram Gallery To Your Phone?
It seems Instagram is in a race to outdo itself. Only seven months have past since the photo app introduced Instagram Stories, its Snapchat-inspired feature that lets you share moments of your day. A few months later, Instagram announced its private save option, which, to be honest, is still slightly unsettling. Now, on Wednesday morning, the app's rolled out Instagram Galleries, a much-needed update to the clunky collage component. As Instagrammers test out the feature, some are left to wonder: can you save an Instagram gallery to your phone? It doesn't seem like the case as of yet.
Since Instagram Galleries is hot out of the oven, it's not surprising that Instagram hasn't added a way yet to save a gallery to your mobile device. After all, initial feature roll-outs always leave something to be desired. Right now, Instagram users can save photos and videos in their profile's settings. But rooting around the app hasn't yielded a native option to download galleries to your phone. There are third-party sites and apps, such as Easy Downloader, that let you save Instagram content to your device, but it's unclear whether those mobile programs have updated their features to include Instagram Galleries.
From my own use of the app, I did not find an option to save an Instagram gallery after I posted a test slideshow to my account.
Save option aside, Instagram Galleries is a pretty cool tool if you are tired of cropping photos to fit into a collage. Instagram Galleries allows you to create a mini-album to share with your followers without compromising the integrity of your (no doubt awesome) photo. Users can choose 10 photos and videos at a time by selecting the double-box on the bottom right-hand corner (some version of the app may show the double-box along with the words "select multiple). Instagrammers can apply filters to each individual photo or video, or apply a single edit to the whole slideshow.
Don't have Instagram Galleries? You may have to update your app. If your apps don't update automatically, you will have to go into the iPhone or Android store to run a manual update. If that doesn't work, you may have to go the extra step and uninstall, then reinstall, the Instagram app. And if that doesn't work, you'll have to play the waiting game — even though the Instagram Galleries feature rolled out Wednesday, it may not hit every single users for a while. In the meantime, there's always Instagram Stories.