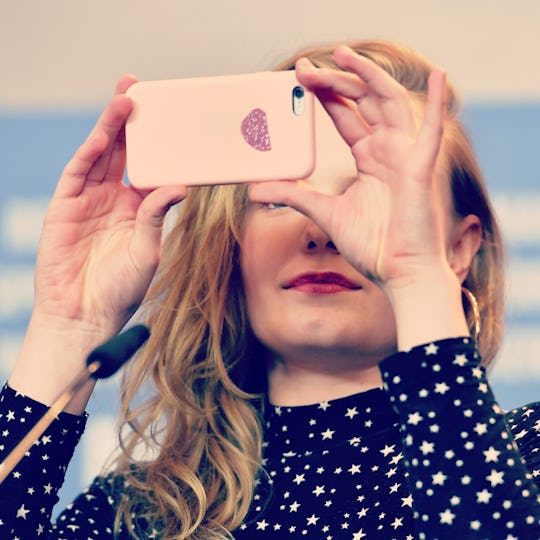 Pascal Le Segretain/Getty Images Entertainment/Getty Images
Can You Share An Instagram Gallery To Facebook?
Starting today, Instagram has officially become even cooler. While that may be hard to believe, it's true. Today, Instagram launched its newest update, Instagram Galleries. Even though you may have seen something similar in the app via sponsored posts, the company has now made it possible for regular app users to use the gallery feature when they wish to upload more than one photo at a time. So, with this exciting new update, you might be curious as to whether the change will affect other aspects of your social media use. Like, can you share an Instagram gallery to Facebook and Twitter? The new update has some restrictions, but sharing across multiple platforms remains the same.
Galleries allows users to upload up to ten photos at a time, all into one post. In the past, when a user wished to upload more than one photo at a time, they would have to do it in separate posts, or create a collage. But now, Instagram will let users create gallery posts, and their followers will see three grey dots on the bottom of the posts that indicate that there are several photos in the post. Instagram shared the news on its website Wednesday, along with an easy video tutorial explaining how to use the new feature.
News of the multi-photo revision was leaked earlier this month, but the exact details of Instagram galleries had remained unknown. Until today, that is. Now, the update is official and all the specifics of the new feature have been unveiled.
While you can definitely share videos and photos into one post, there are some guidelines about what exactly can go into a gallery. For the videos in the new slideshow-like post, a 60-second maximum is implemented, while all photos are required to be in the square format. Which means, unfortunately, no elongated pictures in this new update.
While no word has been spoken about sharing gallery posts on other social media platforms, like Facebook and Twitter, the video shared by the company still shows the selection tool to share to Facebook and Twitter. So it seems that you will now be able to become even more of a social media maven.
Also still present? The app's awesome filters which you can apply to your gallery photos, as usual. You're able to select different filters for different photos in your post, or simple apply the same filter across the board.
In order to access the new Instagram feature, though, you'll have to have updated your system to 10.9 if you have an iPhone. The gallery feature will also work on Android devices.
Get snappin' — or rather, 'Grammin' friends! You won't want to fall behind with this new update.