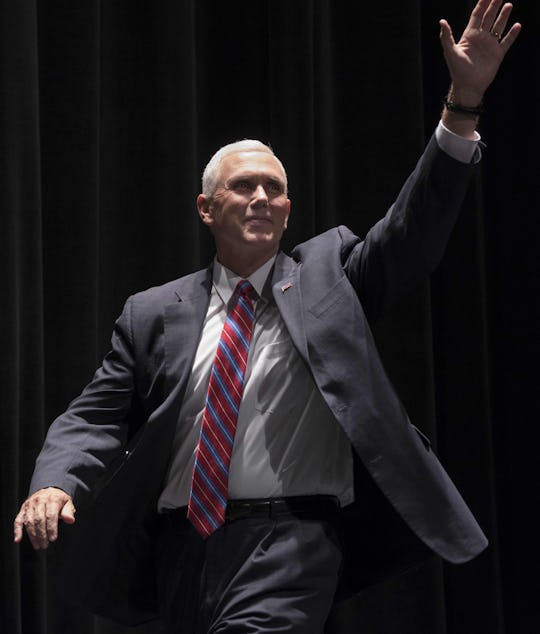 MANDEL NGAN/AFP/Getty Images
Can You Stream The First Vice Presidential Debate? Both VP Noms Are Making It A Must-See
The first vice presidential debate is on Oct. 4. The moderator will be CBS News anchor Elaine Quijano, and the debate is sure to be high-stakes during this tough election cycle. For those of you who won't be able to watch from your TV (or don't have one), I'm sure you're wondering: can you stream the first vice presidential debate?
NBC News, The Washington Post, Telemundo and Fox News will stream every debate — including the vice presidential debates — on YouTube, according to The Associated Press.
ABC News, Fox News, C-SPAN, The New York Times, CNBC, and Telemundo will all stream the debates on Facebook Live. Alongside the debates, ABC News will stream content from watch parties and anchors, The New York Times reports.
Social media will also be a great way to watch the debates. Snapchat will feature every debate as a "Live Story," according to The New York Times. For those of you looking for an interactive experience, CBS News will feature Instagram "Stories," photos, and videos from users during the debate.
Twitter will be streaming Bloomberg Television's coverage, which will include commentary both before and after the debate. You won't even need to log in to Twitter to be able to watch.
For those still watching the old-fashioned way, the debate will air on the major television networks ABC, CBS, FOX, and NBC, as well as cable news outlets such as CNN, Fox News, C-SPAN, and MSNBC.
The debate airs at 9:00 p.m. Eastern Time and will run for 90 minutes without commercial breaks.
Tim Kaine, a junior United States Senator in Virginia, is Hillary Clinton's running mate, while Mike Pence, Indiana's governor, is Donald Trump's. Kaine has taken a break from the presidential campaign to prepare for the vice presidential debate, CNN reports.
"I am not the main event, so I'm in an in-between space. And I've not done that before, obviously, it's a unique kind of a debate," Kaine told CNN.
Kaine's focus is divided between debating Mike Pence's record and Donald Trump's. According to CNN, Kaine said:
I've been in elected life for 22 years, it's not knowing another fact, but it is about thinking hard about the material, thinking hard about Pence's record, and also what Pence's record would say about the guy who chose him, since it really is more about Donald Trump than it is about Gov. Pence.
Pence said he's also preparing for the debate by holding mock-debate sessions with Wisconsin Gov. Scott Walker. In an interview on Hugh Hewitt's radio show, Pence said he's "brushing up" on issues in Washington so he can be "ready" for the debate, CNN reported.
Both candidates are working hard to make this debate as worthwhile as possible. However you choose to tune in, be sure to watch.