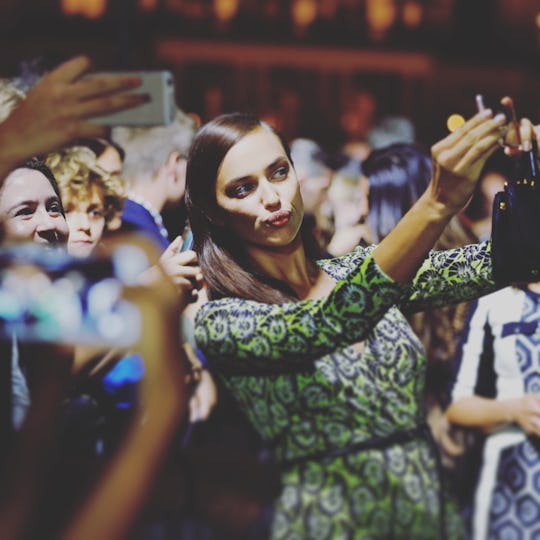 Andreas Rentz/Getty Images Entertainment/Getty Images
Can You Use Instagram Face Filters On A Normal Post?
In case you missed it, Instagram has updated again. It's nothing drastic, but if you're wondering why there are so many memes today about Snapchat and Instagram, here's why: Basically, Instagram introduced face filters with its story feature, an effect that Snapchat users have been using for months now. But, of course, there are some differences between the two platforms. For instance, currently, Instagram only has eight face filters for users to play around with, and the app doesn't have to find your face before applying the filter; it's instant. But a few questions remain: Can you use face filters on a normal Instagram post? Or are they only for stories?
For now, it seems that the only way to send a photo using Instagram's new face filters is to post the image directly to your story, or send it in a direct message to a specific person. The eight available face filters include a golden, leaf-like crown, a fuzzy Koala face, glasses, a butterfly/flower crown, an ice crown, a peacock that transforms into a flapper costume, a rabbit face and ears, and a smoothed-out makeup filter.
To access the new face filters, "simply open the camera and tap the new face icon in the bottom right corner," as Instagram instructed in its press release.
Of course, if you want to share your face-filtered selfie with a wider audience, you could always "save" the photo to your library and then upload the image to your Instagram page. In short, this new added feature does away with one of Snapchat's biggest draws. Being able to transform into a cute bunny or puppy dog was previously only available on Snapchat, but Instagram has changed all of that.
Instagram's face filters are "an easy way to turn an ordinary selfie into something fun and entertaining," according to the company's statement. "Whether you're sitting on the couch at home or you're out and about, you can use face filters to express yourself and have playful conversations with friends."
You might need to update the app first, in order to access the new face filters, but after that, it's a snap. And while there are only eight filters as of now, the app plans on switching them around and giving users more options in the future. Snapchat fans, don't worry — Instagram's update won't render the little ghost obsolete just yet. But hey, if Snapchat is ever temporarily down, at least you know where to go to get your face-filter fix.