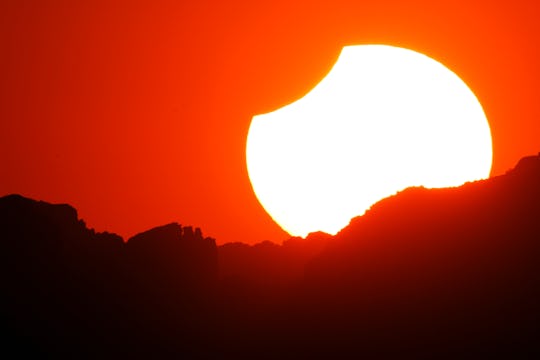 David McNew/Getty Images News/Getty Images
Can You Watch The Solar Eclipse On TV?
In a little less than two weeks, the United States will see its first total solar eclipse in nearly four decades. The rare event, dubbed the Great American Total Solar Eclipse, will span coast-to-coast, and is sure to mesmerize everyone. But those not in the eclipse's path may be wondering: Can you watch the solar eclipse on TV? Short answer is yes. It will be shown on some stations, as well as streamed live online.
According to Newsweek, the Weather Channel has a day of live-programming scheduled for the solar event, which will be the first total eclipse in the lower 48 states in more than 38 years. The station will begin coverage at 6 a.m. Eastern, and have meteorologists report from five locations: Madras, Oregon; Jackson Hole Wyoming; Carbondale, Illinois; Clemson, South Carolina; and Nashville, Tennessee. The Science Channel will also premiere a one-hour special on the total solar eclipse at 9 p.m. Eastern Time, in addition to streaming the celestial event live on Facebook from Madras, Oregon during the day, Newsweek reported.
NASA will also live stream the eclipse on its website, as well as air the multi-hour show, Eclipse Across America: Through The NASA, on its television station. The programming will include live video and coverage of eclipse-related activities across the country.
YouTube will also live stream the total solar eclipse, as well as CNN and on Astronomy magazine's website. Stream, the live video app, is also hosting a website dedicated to the eclipse, which includes a live steam.
The impressive celestial event, which takes place Aug. 21, will span across the continent, from Salem, Oregon, to Charleston, North Carolina, starting at around 9 a.m. Pacific Time and ending at about 2:48 p.m. Eastern Time, according to NASA. The totality, where the sun is completely obscured by the moon, will only have a 70-mile radius, which means cities outside of the celestial events's path will see a partial eclipse, according to Vox.
In addition to live streaming, you could also watch the event live by attending an official viewing party. You can visit NASA's website for a list of different parties, festivals, and gatherings happening across the country where you can geek out with other people over the natural phenomenon. Or you could camp out at your local park, or on your front porch, patio or balcony to witness the magnificent event. Just make sure to keep your eyes protected and don't stare directly into the sun.