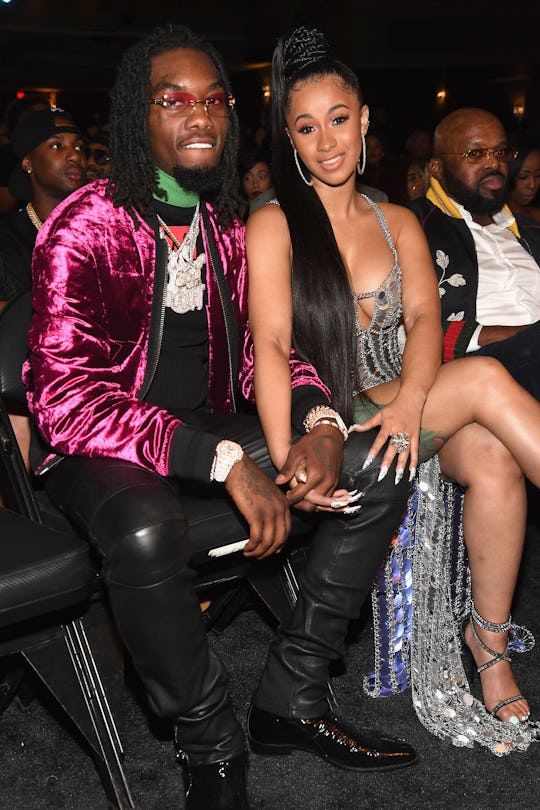 Paras Griffin/Getty Images Entertainment/Getty Images
Cardi B Shared A Teeny Tiny & Totally Adorable Glimpse Of Baby Kulture — PHOTO
If you've been dying for a glimpse at Cardi B and Offset's baby Kulture, you may be thoroughly unimpressed (or maybe just amused) by her latest social media tease. At the MTV Video Music Awards on Monday night, Cardi B opened the show carrying a baby blanket in her arms. Fans watching the broadcast and the live show — her husband Offset included — thought this was finally the moment Cardi was going to reveal her baby Kulture's face to the world. Unfortunately, all the blanket contained was a VMA Moon Person award. And now, two days later, Cardi has teased the world with an almost-look at her daughter once again.
On Wednesday, Cardi B posted a photo on Instagram with a simple caption: "KultureK." In the sweet shot, she and Offset are lovingly staring at Kulture, who is cradled in Offset's arms. Unfortunately for those who were scarred by Monday night's fake out, Cardi decided to crop the photo, only letting viewers see Kulture's hat, her forehead, and the teeniest, tiniest glimpse of her eye and nose. Even though Kulture's face is still a mystery, the picture is still a super cute family shot. Not to mention, Cardi's eyelashes look pretty dang epic.
Cardi B and Offset welcomed Kulture Kiari Cephus on Tuesday, July 10, in an Atlanta hospital, according to TMZ. The new mama then confirmed her daughter's birth by Instagramming a gorgeous maternity photo of herself, captioned, "Kulture Kiari Cephus 07/10/18🎀🌸."
Kulture is Cardi's first child, and Offset's fourth, according to Us Weekly, meaning the little cutie already has three older siblings to hang out with. Since giving birth to Kulture six weeks ago, Cardi has kept her fans very updated on her baby girl's adorableness as well as her antics — all while making sure to keep her daughter's face hidden.
All parents, including famous ones, have the right to keep their child's face concealed from the public. So while fans of the rappers would surely love to see a photo of baby Kulture, it's totally up to Cardi and Offset when (if ever) their baby makes her social media debut.
Nonetheless, Cardi's motherhood updates have been super entertaining. Just last week, she posted a video of herself serenading Kulture in her crib. Leaning over her daughter, Cardi sang her own lullaby version of "In My Feelings" by Drake.
"Kulture, do you love me, I'm your mommy, I remember, when I had you, inside me, and I birthed ya, and I need ya, and I'm down for ya, like Kulture, do you love me?" she sang.
Cardi has also shared plenty of tweets gushing over how dang cute her baby is. "I never felt this feeling before 😍I'm In love and my heart feels like it's melting 💖🌸🎀," she tweeted last month.
"My baby is sooooo yummy❤️🎀I really love this little girl she really is everything," Cardi tweeted last week.
"It's beautiful how fast mother instinct kicks in," she tweeted last month. "Never wanna leave my baby side."
It's clear that Cardi is so in love with her daughter — but that doesn't mean everything has been smooth sailing since she became a mom. Earlier this month, Cardi revealed a rather shocking, but pretty hilarious, habit that Kulture picked up. "Minutes after my daughter was born she was sticking out her middle finger and she stay doing it now all the time 😩😂😩😂," Cardi wrote on Twitter. "She Soo disrespectful 😩wonder where she got it from ?🤔"
So until Cardi does decide to share more than an inch of Kulture's face with the world, her hilarious and adorable Twitter updates certainly suffice.