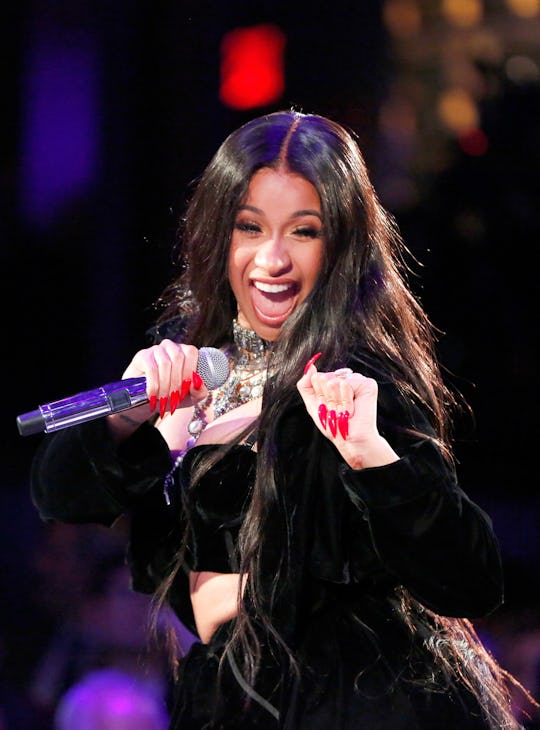 Brian Ach/Getty Images Entertainment/Getty Images
Get Excited, Because Cardi B Has Announced Her First Performance Since Baby Kulture's Birth
Back in July, Cardi B welcomed her first daughter with husband Offset, after coyly sharing that she was pregnant during a performance on Saturday Night Live just a few months prior. Any new mom knows that transitioning from new motherhood back into work is not easy, and you often need time to recuperate and heal as well as bond with your new baby. Though she was meant to tour with Bruno Mars, Cardi announced that she would have to drop out, but promised fans that she'd be back soon. Now, that's coming to fruition as Cardi B announced her first performance after giving birth, and as it turns out, she will be returning to the stage for a festival in October.
Billboard reported that Cardi is headlining the Mala Luna Festival in San Antonio on Oct. 27 and 28. She will be joining artists like Nicky Jam, and Tyler, the Creator. The announcement comes just weeks after news that she'd be dropping out of Bruno Mars' tour this fall, as TODAY reported.
"As of today I've decided I won't be joining Bruno on tour this fall. I thought that after giving birth to my daughter that 6 weeks would be enough time for me to recover mentally and physically," Cardi announced in a lengthy statement on Instagram. "I also thought that I'd be able to bring her with me on tour, but I think I underestimated this whole mommy thing."
The quick turnaround probably isn't so much of a surprise to fans, as Cardi has been promising that motherhood wouldn't take away from her career (though, in all fairness, it would be OK if it did). PopSugar reported that Cardi told radio station Hot 97:
I hate the certain things people say... like 'I feel bad for her. Why is she doing that in the height of her career?' and it's just like why can't I have both? Why do I have to choose a baby or a career? Why do I have to be in my mid-30s to have a baby? What am I doing wrong?
Once her pregnancy was announced, Cardi was very transparent with fans about everything from the woes of the third trimester to why she actually kept it a secret for so long. Billboard reported that Cardi wrote in a now deleted Instagram post: "This is why I did not wanted to say nothing [about the pregnancy]. People be so thirsty to scrutinize and try to destroy something that it suppose to be a blessing."
She is referring, of course, to the fans who felt that she shouldn't be having a baby at the height of her career (an assumption which is incorrect at best and completely insulting at worst). However, Just Jared reported that Cardi has been adamant that she is committed to both being a mother and continuing her rap career: "I started winning when the whole world was doubting on me!," she tweeted in April "Think imma lose with my little baby counting on me?"
Now, Cardi will be keeping her word and returning to the stage in just a matter of months. Billboard reported that last year's Mala Luna festival was so popular it sold out, and musicians such as Future, Travis Scott, Lil Wayne, Wiz Khalifa, Migos, G-Eazy, Tory Lanez, Lil Uzi Vert, Rae Sremmurd, and Lil Yachty, Kaskade, Afrojack, Steve Aoki, Carnage, Borgore, and others played to a crowd of 50,000 fans. It's no small deal, which is likely why Cardi has decided to make it her official debut return.
Though there's been no word yet of if or when she'll be releasing new music, fans can rest assured that Cardi is coming back, and she'll probably be better than ever.