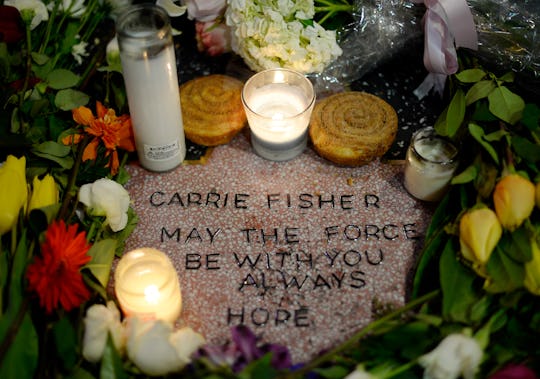 Kevork Djansezian/Getty Images Entertainment/Getty Images
"Carrie On Forever" Tweets Honoring One Year Since Carrie Fisher's Death Are So Touching
When someone dies, it doesn't mean that they're truly gone forever. They live on forever in the lives they touched, and the stories that continue to be told longer after they've passed. The "Carrie On Forever" tweets honoring the one-year anniversary of Carrie Fisher's death show that the actress and mental health advocate's life had a far-reaching impact on a galaxy of fans, and they're going to make sure that her memory and legacy won't be forgotten. Fisher was a hero, both on-screen and off, to so many people, for so many reasons, and just like Luke told Leia in The Last Jedi, "No one's ever really gone."
Millions looked up to Fisher as the actress who portrayed that rare princess who didn't need rescuing (and in fact, ended up rescuing her own would-be saviors time and again). Far from delicate, Leia Organa led a rebellion and rose to the rank of general in her later years, even though that meant living apart from her "prince." And in real life, Fisher was the frank, sassy old broad we all aspire to be, publishing multiple best-selling memoirs and working tirelessly to end the stigma of addiction and mental health issues.
Leia inspired generations of girls and women whose previous role models had failed them. A pretty face and perfectly styled hair are fine and good, but this princess, for the first time, was a three-dimensional character whose wit and courage far outmatched the male heroes.
And although her most memorable costume from the Star Wars series might be the golden "Slave Leia" bikini, Fisher was quick to point out that Leia's captivity was short-lived, tweeting in 2015, "That chain only 'enslaved' me until I could use the frabjous thing to KILL THAT DROOLING SWOLLEN SUPERTONGUED SLUG & whirl him off into infinity." The 2016 novel Star Wars: Bloodline reveals that after the events of Return of the Jedi, Leia became known as "The Huttslayer."
Many are finding comfort in remembering Fisher's humor; in her 2012 memoir Wishful Drinking, she recalled being instructed by George Lucas not to wear a bra under her white dress in A New Hope because "there's no underwear in space." The director's thinking, Fisher wrote, was that one's body would expand in space, but their clothing wouldn't, "so you'd get strangled by it." She'd no doubt be tickled by how many of her fans are now honoring the request she included in that memoir: "no matter how I go, I want it reported that I drowned in moonlight, strangled by my own bra."
In addition to her humorous writing, many of Fisher's quotes have proven especially apt for fans as they struggle to come to grips with her passing. Unlike those corny "live, laugh, love" wall decals you'd find at an arts and crafts store, her words are truly inspirational, because she'd actually been through hard times, and made it out the other side.
The anniversary comes just days after the premiere of The Last Jedi, the film featuring Fisher's final appearance as Leia. This one-two punch to fans signals that it's finally time to say goodbye to them both, but they'll always have the memories.
In 1995, Fisher revealed to Diane Sawyer that she'd once blamed her drug addiction on herself, just a symptom of growing up privileged. But she came to understand that her bipolar disorder had led to her earlier poor judgement, and with treatment and medication, she learned to manage it. "I outlasted my problems," she said. "I am mentally ill. I can say that. I am not ashamed of that. I survived that, I'm still surviving it, but bring it on. Better me than you."
The fictional Leia and the woman who played her gave fans a powerful lasting gift: hope.
Check out Romper's new video series, Romper's Doula Diaries:
Watch full episodes of Romper's Doula Diaries on Facebook Watch.