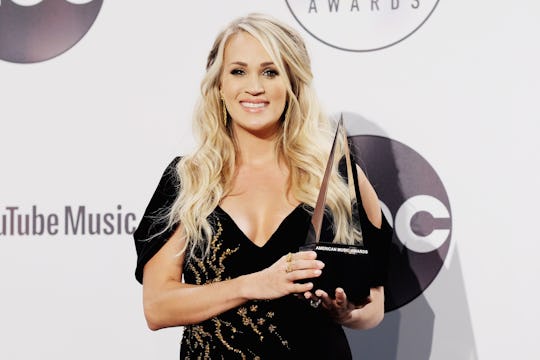 Matthew Simmons/Getty Images Entertainment/Getty Images
Carrie Underwood Reveals Her Pregnancy Attire Is A Little Less Glamorous These Days
Carrie Underwood has always been super stylish and sophisticated. Even when she first appeared as a contestant on American Idol years ago, she was one of the people who didn't really need much of a makeover because she had her look figured out. But that was then, and this is now. And now she is a pregnant lady, which means things are simply different. She can let her shiny blonde hair down and just revel in kicking back and taking it easy. In fact, Carrie Underwood's pregnancy wardrobe isn't even her own wardrobe. Her clothes apparently come courtesy of her husband, hockey player Mike Fisher.
Underwood and Fisher are expecting their second child, another baby boy, in the new year. They are already parents to 3-year-old son Isaiah, which means the Underwood/Fisher household is going to be testosterone heavy, for sure. Not that the "Cry Pretty" singer seems to mind. Maybe she's just looking forward to all the guy clothes she can get her hands on, although to be fair I think Isaiah's clothes wouldn't really work as well as Fisher's apparently do in her current situation.
Because, much like so many of us less glamorous moms and pregnant people out there, Underwood is apparently hanging out in some of Fisher's clothes as her pregnant body grows.
As the "Before He Cheats" singer shared on Twitter on Wednesday, she is "officially wearing Mike's clothes in public now" because her clothes don't fit anymore. And I have never found Carrie Underwood more relatable than I do in this special moment.
I'm not alone. Whether moms are wearing their fella's sweats or just as many loose layers as possible, they totally get the comfy vibe. And some of us aren't even pregnant.
All of her fans think it's sort of adorable that Carrie Underwood, who looked so at home in a gorgeous gown at the American Music Awards just weeks ago, is now walking around in her husband's clothes. Everyone, it seems, except Fisher, who jokingly called her out on Twitter for "stretching out" his clothes and oh boy, I hope he has somewhere safe to stay for the next few months.
Whether Underwood is wearing her husband's clothes or not, she told E! News that she's really enjoying her second pregnancy and feels pretty much like every other working pregnant mom out there. "I'm good. I feel good. I just have a strange job… but I'm just like every other pregnant lady trying to go to work," she told the news outlet.
And just like so many pregnant women out there, Underwood wears her husband's clothes now that she doesn't fit into her old one. In public, which is actually quite a bold move for a big time celebrity. Because there could be paparazzi lurking around every corner trying to catch her in Mike Fisher's sweats.
Although let's face it: even if she did get caught in her husband's clothes, you know she's still going to look amazing. So it's probably not a big deal for her. She can just rock his big t-shirts and relax.
This first-time mom wants to have a home birth, but is she ready? Watch how a doula supports a military mom who's determined to have a home birth in Episode One of Romper's Doula Diaries, Season Two, below. Visit Bustle Digital Group's YouTube page for the next three episodes, launching every Monday starting November 26.