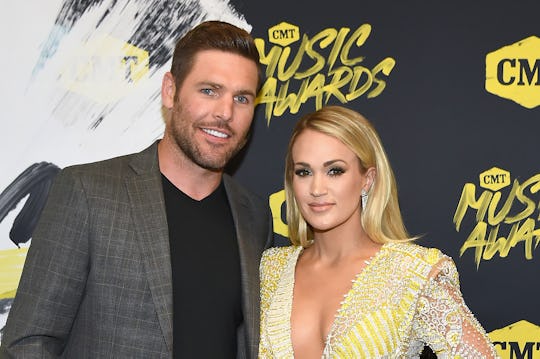 Rick Diamond/Getty Images Entertainment/Getty Images
Carrie Underwood's Quotes About Motherhood Show She Is Ready For Baby Number Two
Now that Carrie Underwood has announced that she is pregnant with her second child, she has been super talkative about it — which is awesome. Earlier this month, Underwood announced on Instagram that she was expecting a second child who would be joining her 3-year-old son, Isaiah, in the near future. But this isn't the only time that Underwood has been vocal about her life as a mom. Practically all of Carrie Underwood's quotes about motherhood and pregnancy show that motherhood is something that Underwood cares a lot about.
As previously stated, Underwood and her husband, retired hockey player Mike Fisher are expecting their second child together, according to Country Living. This news is very exciting for fans of Underwoods who have been following along with Underwood's journey from American Idol contestant to Grammy Award winner to soon-to-be mom of two.
Just like her career as a country music superstar, it seems as if becoming a mom was another role that Underwood was destined to fill — even if she was apprehensive about it, first. In 2013, one year before she got pregnant with her first child, Underwood told People that she had "never been the kind to think about kids," according to E! News. And even if she didn't do a lot of thinking about kids herself, she did think about the kind of father her husband would make. "I know Mike would be an incredible dad," Underwood said.
With one more kid on the way, it's clear that Underwood thinks about motherhood a lot now — and that is obvious based on everything she has said about motherhood and pregnancy.
On Wanting A Big Family
Just days before officially announcing her pregnancy on Instagram, Underwood told Redbook that she wanted to have a big family, but felt like her time to do so was running out. Underwood said:
I'm 35 so we may have missed our chance to have a big family. We always talk about adoption and about doing it when our child or children are a little older. In the meantime, we're so lucky to be a part of organizations that help kids, because our focus in our lives is helping as many kids as possible.
It's obviously not too late, Carrie!
On Bringing Her Son On Tour
With Underwood being a country music sensation, she is always on tour — which means bringing her family with her on tour. Although having little kids on a tour bus might seem scary to some, Underwood has been honest about how she adapted her home life to the tour bus. In 2016, Underwood told TODAY:
I'm so fortunate because I get to have my little guy with me. I was so concerned about going on tour and how it was all going to work. "How am I going to be a mom?" "How am I going to do what I do?" He's really learned to hang with us and keep up. It's been really wonderful having him out on the road.
But just because having her son on tour with her was wonderful doesn't mean it was too easy. That same year, Underwood told People that bring her son on tour with her was like a balancing act. "I have help, because someone has to watch Isaiah while I'm on stage, but we live a lot more in the bus now instead of going in and out of hotels."
Although her son was visiting a lot of states during his first year of life, Underwood told People that she and Fisher tried to do something fun on each stop. "On off days, we look for parks and zoos and aquariums," Underwood said.
With Underwood going on tour in 2019 after the birth of her second child, according to Billboard, the tour bus is definitely going to be the second home for both of her kids. Earlier this week, Underwood told the Tennesseean that she was a little unsure of how her tour would be with two kids traveling with her. Underwood said, according to People:
It's going to be a different ball game, for sure. My brain, I'm such a planner. I want to know how it's all going to go. But, no matter who you are, you make it happen, you make it work, you get your team behind you.
On Her Definition Of A "Normal" Family
With Underwood being a huge superstar and Fisher being a hockey player, Underwood told TODAY in 2016 that she is aware that her life is far from normal. But instead of dwelling on how she can't give her son a "normal" childhood, she's turned it into a positive thing:
I felt a little bad that he doesn't have a "normal" babyhood. My friend told me I needed to cut myself some slack and said, "God gave him to you and he knows what you do." Once she said that, I was like, this is the way it's supposed to be and I should not worry so much. I give motherhood my all. I give entertaining my all. Hopefully everything will be OK and so far it has been. We are figuring it out as we go.
On The Pressure To Get Back Into Pre-Pregnancy Shape
10 months after giving birth to Isaiah, Underwood was featured in Shape, giving tips to other new moms about how to get back to their pre-pregnancy weight. "After I had Isaiah, my goal was to take control of my body again," Underwood said.
But, Underwood also told TODAY in 2016 that she wasn't pressured to get back to her pre-pregnancy weight. Underwood said:
At the end of the day, it's all about how you feel. It's about being healthy and being healthy for your family. It's easy to say, "Who cares about what other people think?" But it's about you and your little one. That's it. That's all that matters.
On Finding Motherhood To Be A Little Simpler Than Expected
Although some new moms find being a parent to be a little tricky, Underwood found that motherhood came easy to her. In an interview with People just three months after she gave birth, Underwood revealed that she was very happy being a mom to an easy baby. Underwood said, according to FitPregnancy:
I think I honestly expected — I know it's going to sound weird — but I expected the worst. I've never been around babies before, to be honest, but he's so laid back! It surprised me that it's a little easier than I thought it was going to be. I think I just expected, like, screaming crying baby all the time, and he's just happy and smiley and gorgeous.
On Breastfeeding
In an interview with People, Underwood revealed that breastfeeding was a struggle for her. Underwood said, according to Country Living:
You feel guilty about every single thing, every decision you make, everything you do. It's hard. My supply is nil. We have to supplement with formula. I'm doing the best that I can, you know?
On Asking For Help
In 2016, Underwood told Redbook that her best piece of advice to other new moms would be to ask for help — because that helped her so much throughout her son's first year of life. Underwood said:
Accepting help is hard for me, but I'm learning. Sometimes I feel guilty that this is my son's life: We live on a bus, and we're in a hotel room, and sometimes we're in the middle of nowhere, and it's not so great. It's not all glamorous. We have a nanny who helps out, especially when we're on the road.
On How Her Mood Changed Once Having Kids
In that same interview with Redbook, Underwood said that her son changed her as a person and made her so much happier. "I'm in a better mood a lot of the time," Underwood said. "I'm completely in love. I love it when he's sleepy and I get to hold him and smell him."
On Getting Ready For Baby Number Two
Although Underwood just announced that she was expecting her second child, she was already thinking about her second baby long before then. During that same 2016 interview with Redbook, Underwood said that the timing had to be right before having another kid:
If my husband was at the beginning of his career, I'm not sure if we could handle it. Since he's nearing the end and won't be traveling so much, we're like, "We can figure it out for not that long." You make it work. When I was pregnant, I thought, "How am I going to go on the road? How am I going to keep doing my job? I had to just give it to God and stop worrying about it. Sure enough, we figured it out.
With her second child on the way, Underwood definitely seems to have it all (or some of it) figured out. The best thing is, she isn't afraid of sharing her knowledge of what she has learned about motherhood along the way of her journey.