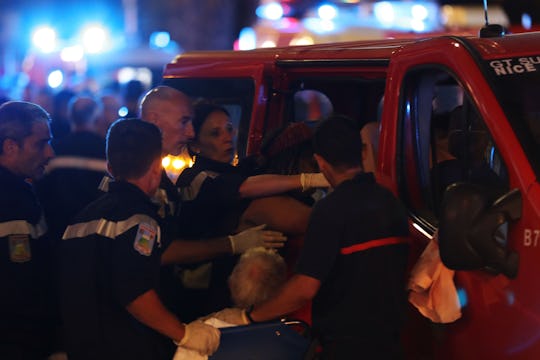 VALERY HACHE/AFP/Getty Images
Cartoons That Support The France Crash Victims, Because Sometimes There Are No Words
During what should have been a day of unabashed celebration, a driver of a truck intentionally ran into a crowd during Bastille Day in Nice, France, killing a reported 77 people according to French officials. While the city of Nice, the country of France and, no doubt, the entire world attempt to comprehend another massive loss of life, cartoons that support the France crash victims are emerging because, sometimes, there are no words.
Update: French President Francois Hollande announced Friday that the death toll had risen to 84 and at least 50 people were in critical condition "between life and death," according to ABC News.
While it is unknown as to whether or not this senseless act of violence is the result of an intentional terrorist attack or not, the world is collectively reacting with shock, heartbreak and anger. The details emerging courtesy of eyewitness accounts are chilling, as one witness told BFM TV, according to the Telegraph:
We saw a white lorry which drove directly into people on the Promenade des Anglais. A gunman fired into the crowd before being shot by police. Perhaps they are dead, I'm not sure.
It's difficult to fathom someone driving a vehicle into a crowd not only intentionally, but vindictively. However, regardless of how difficult it may be to comprehend, it is, in fact, our collective reality. Numerous eyewitness videos show a white van plowing into innocent bystanders, as the truck appears to be accelerating as it entered a celebratory crowd. While it is clear that offering thoughts and prayers in the wake of tragedy and such intense losses of life is doing nothing to combat terrorism and violence, the world is left with nothing but cartoons and drawings and depictions that can only mirror the aching feeling so many are left with. Sadly, there is a feeling of hopeless that cannot be ignored, and can only be depicted through social media posts and artistic representations. Here are just a few, being shared on social media in solidarity.
Is there a fool-proof way to combat and end these seemingly endless acts of violence? Who can say. How and why and what can be done to end terrorism will, no doubt, be debated and discussed in the days to come, as it is after every attack we've, sadly, become somewhat accustomed to enduring. However, in the wake of another devastating tragedy in which multiple innocent lives were lost, the world can turn to and hold onto one another. In action. In words. In thoughts. In prayers. And, when all else fails, in artistic representation of a heartbreak that is nothing if not unspeakable.